We celebrated Halloween this year with my in-laws, my neice and my mother…so six adults took two kids Trick-or-Treating.
Noah got to be the lion by default since he can't object to it and we already had it. He'll probably be the lion again next year if it still fits him. I think 4 years of wear out of a costume is probably pretty good.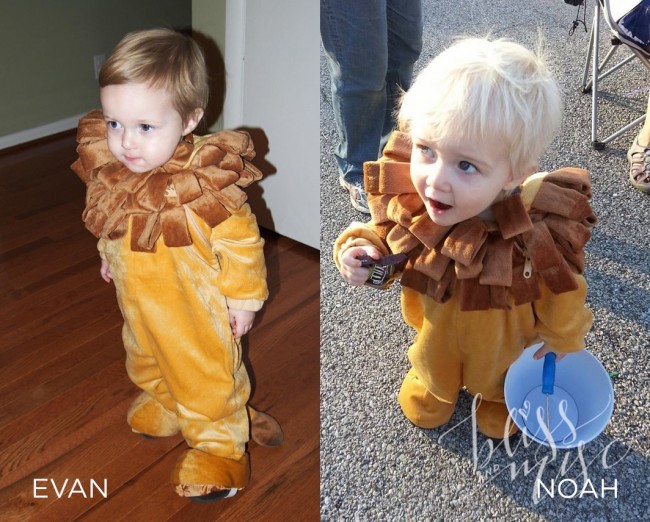 Further proof my children look NOTHING alike.
Evan was a policeman.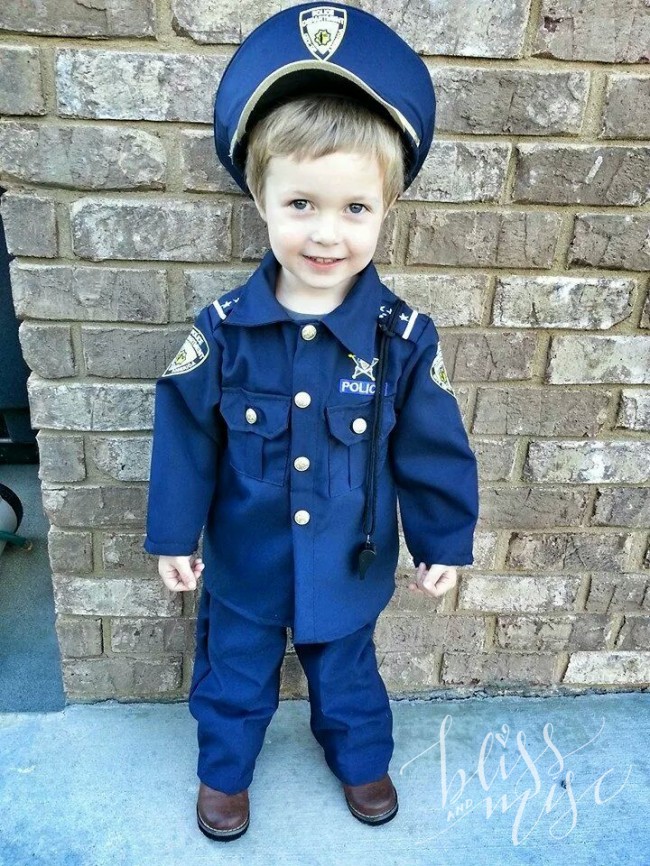 So glad I waited till the week before Halloween to buy his costume. This child told me for well over a month he was going to be a "Cow" for Halloween, he told anyone who asked him. Then he saw a policeman costume and he decided that was what he was going to dress as.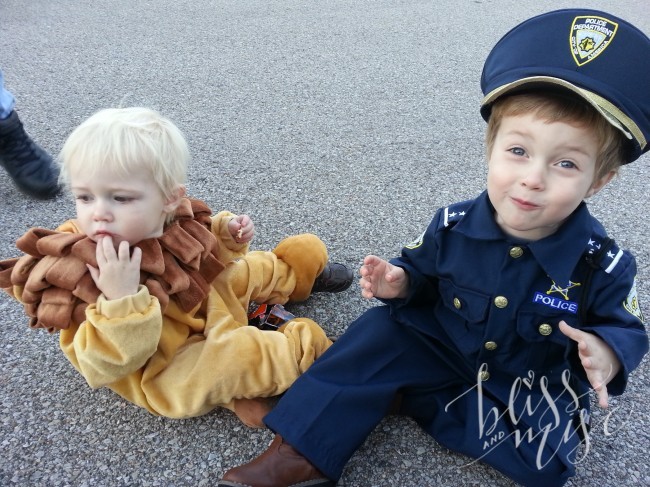 We went to a local Trunk-or-Treat event early in the week and E's preschool had a harvest party (nothing like getting to wear costumes multiple times)…Evan decided we were "pretending" it was Halloween.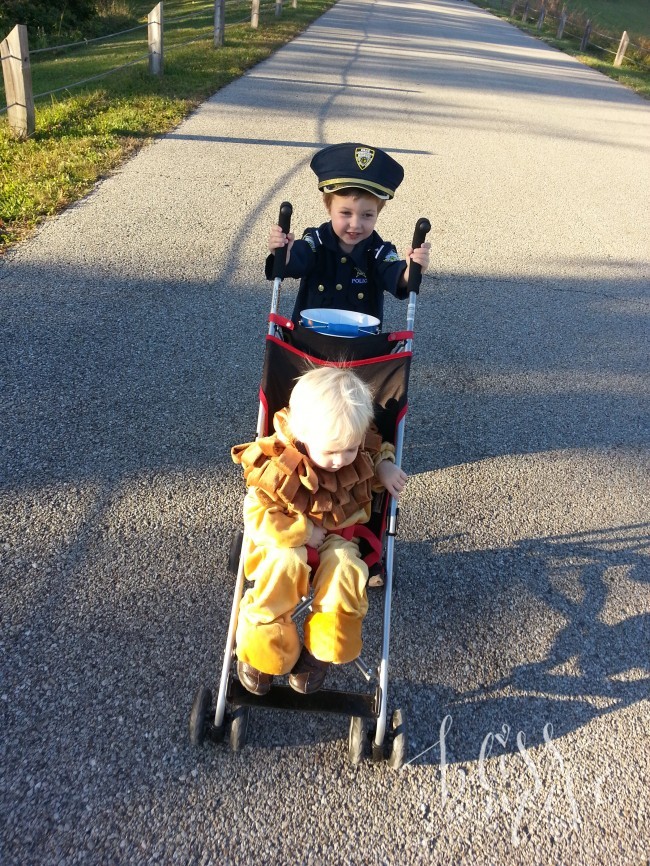 I failed to get a decent photo of them together on Halloween since it was sleeting and Noah was having a meltdown because his PaPaw wasn't in sight.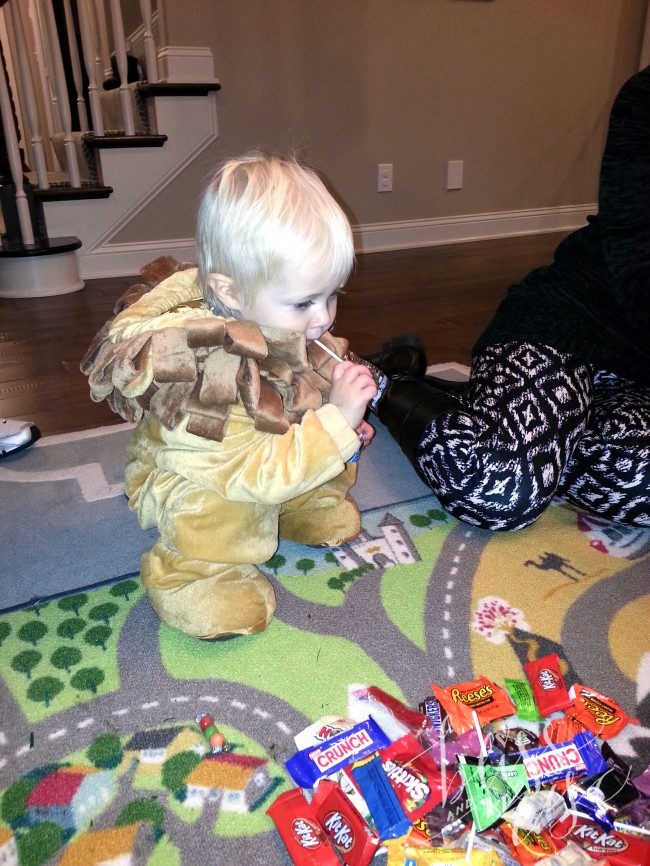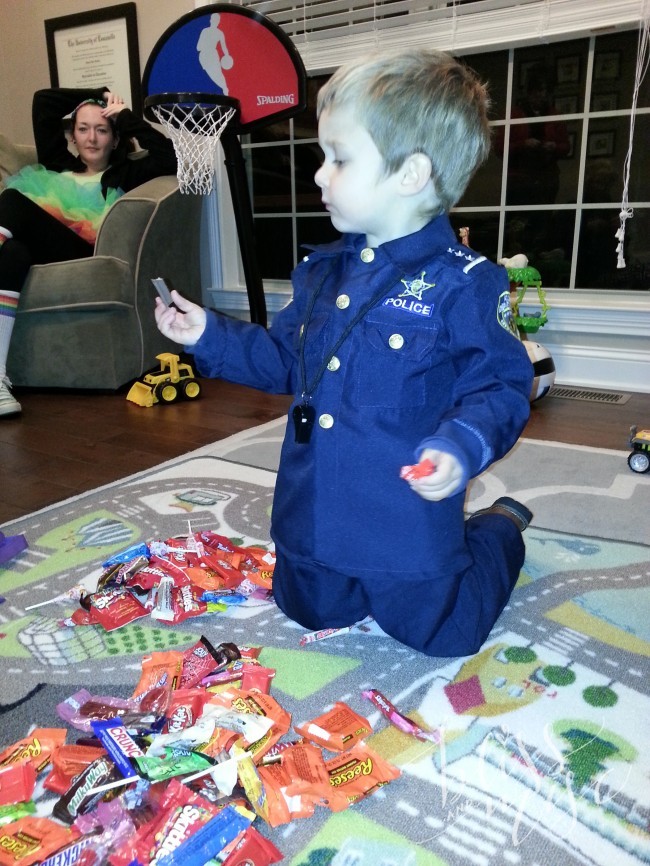 ---
We also started the NEXT BIG THING this weekend!
(No we are NOT expecting…yikes…seriously have you read anything about Noah?)
We decided to finally finish our basement! Woo-hoo! We've wanted to finish it since we moved in last year and we finally pulled the trigger this winter. Since the boys are getting bigger (and most of our friends have more than one child now) we started to want more space for running around.
This has been the current state of our basement. My husband "decorated it" – it's man-cave chic at it's absolute finest.  I guess anything was better than studs and he did cover all the insulation so the boys wouldn't get in it (yeah for safety).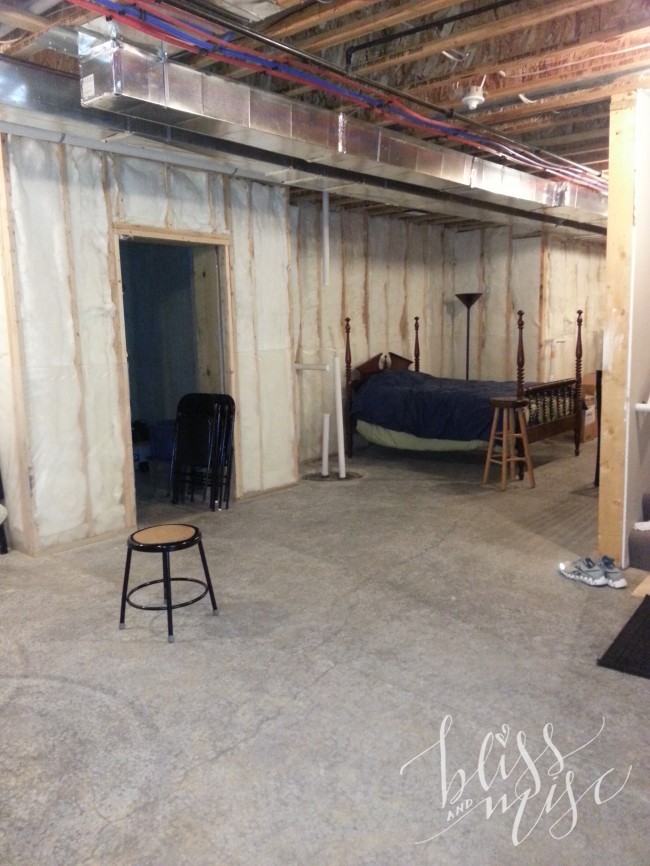 The guest room (or dungeon)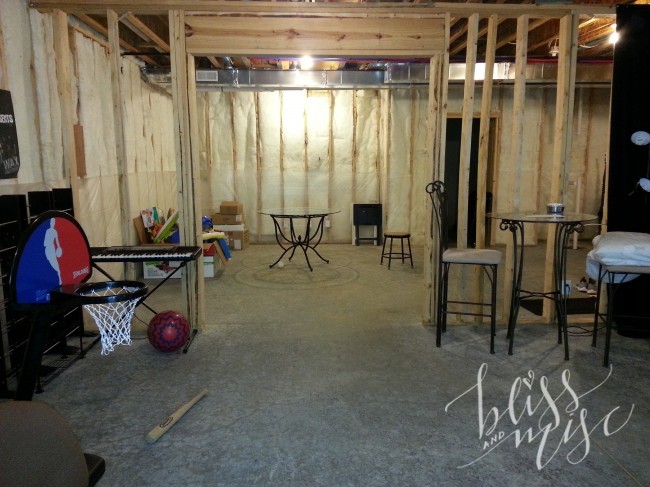 Random room at the bottom of the stairs (we're still not sure what this will actually be)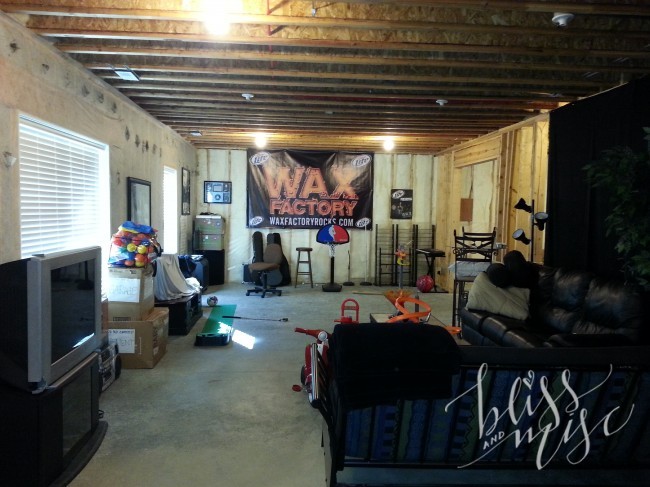 Living Room/Playroom Area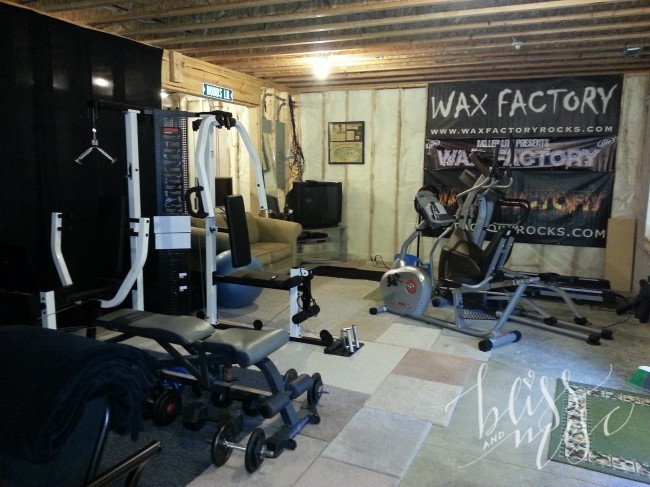 The "Gym"
Progress:
This past weekend they actually got two walls up, studs placed on the ceiling in one room (to avoid a weird soffit situation) and walled off the gym area from the storage area.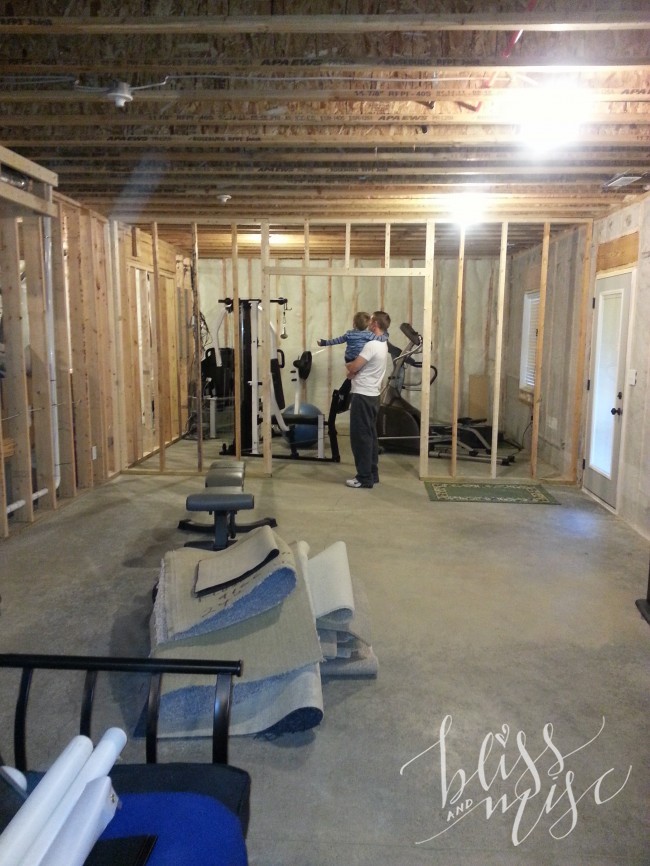 Now we'll actually be able to keep the kids off all the workout equipment.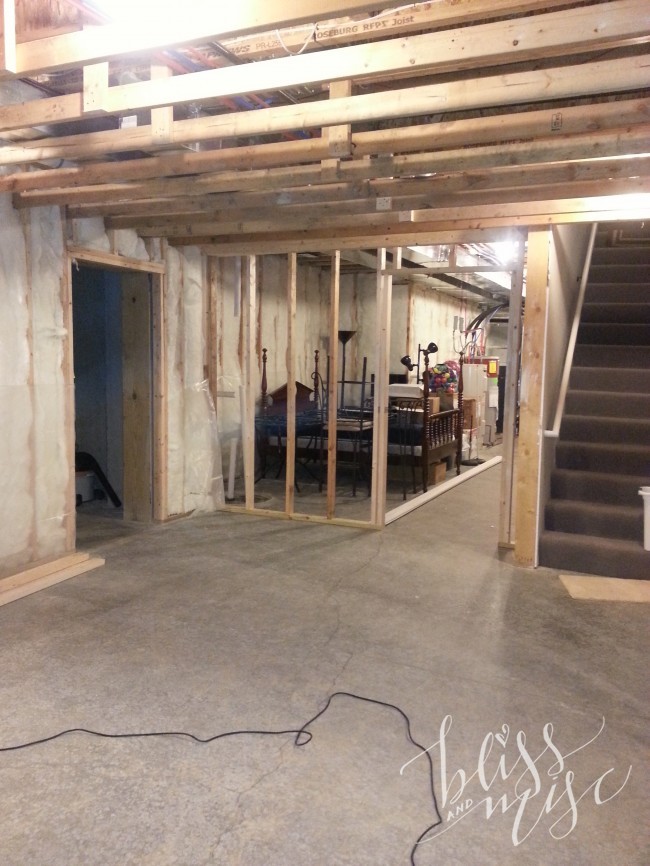 Our ceiling and door to our storage area…sorry guests…that area is still going to be unfinished but if you're nice maybe we'll move the bed out for your visit!
Looks like good progress right?
The kicker:
We want it finished by Christmas since we volunteered to host my family for the holiday this year. Taking bets now on the state of it on December 25th. 🙂