I recently posted about how the boys are ready for summer. I decided we needed to update our outdoor space as well.
We have a deck and a patio but we really haven't done much with them since we moved in. Now that we finished our basement it seems like we needed to make the patio a little more livable since I figured we'd be going out their more. (I just realized I never shared what our basement looked like finished – whoops!)
Early this spring my husband added some soft holly bushes and landscaping rock to the edge of the patio. We don't really want a ton of landscaping in the back of our house since the kids and dog are running around.
I ordered some outdoor furniture from Ikea. I had looked around locally and anything comparable was WAY more than what we paid. I thought wood would be nice and hold up a little better than metal or wicker (plus there's always the option to paint). We picked some pieces from the Applaro Series – since all the pieces were individual and could be rearranged.
I opted for shipping since it would have cost us in tax and gas what it cost to ship. When I ordered it said the estimated delivery date was about 3 weeks from when I ordered – which was fine I wasn't in a hurry. So I placed my order, then I waited…and waited…and waited and panicked and looked up all the bad reviews about Ikea shipping. Yikes! After that I anticipated something would go wrong BUT we got everything in our order delivered on-time and the delivery people did in fact call like they said they would. Yea!
Each chair took me about 15-20 minutes to put together (depending on how much Evan was helping). So I got everything assembled and arranged in an afternoon. I hit the cushions with a solid coat of Scotchgard because I'm a realist…I know these won't stay white for too long but I'm going to put off washing them as long as possible.

Yeah I totally stole our living room decor to style this.
I thought about some outdoor curtains to give us a little more privacy but I'm not too keen on having something else to take in/clean. An outdoor rug would be cute but not very practical right now. Perhaps I'll draw one in chalk. 🙂
I also created this little Pinterest project for the boys. I've had this teepee Pinned for a while so I thought it would be a fun weekend project. Since I'm a craft hoarder it was around a total of $6 (and some tax).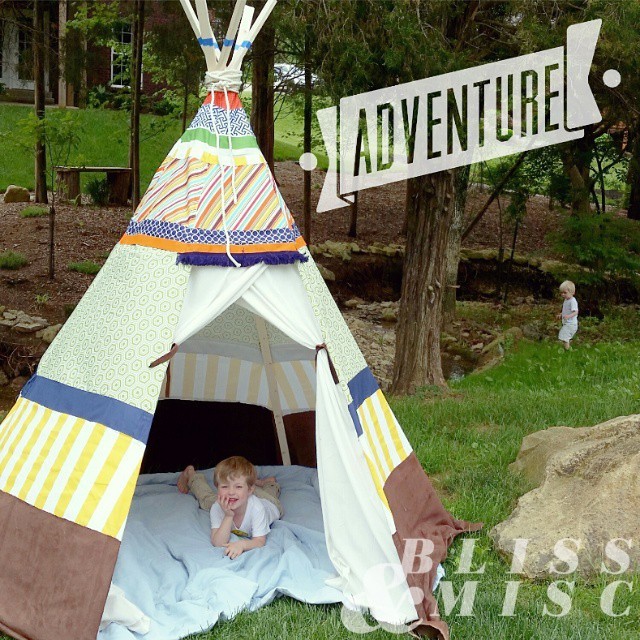 I ended up painting the end of the poles but took the pic before I got to that point.
It was SUPER easy, I basically followed the directions found on the site. I used six 1x2x8ft pine strips, drilled holes and used cord we already had to tie them together.
Then I raided my fabric stash. This was all left over from other projects since I usually over-buy. There are a couple of pieces of old curtains that I had hemmed that don't fit windows at our new house and even some old sheets that were pilled. TIP: I laid out the fabrics in the order I wanted use them so I could make sure I had enough.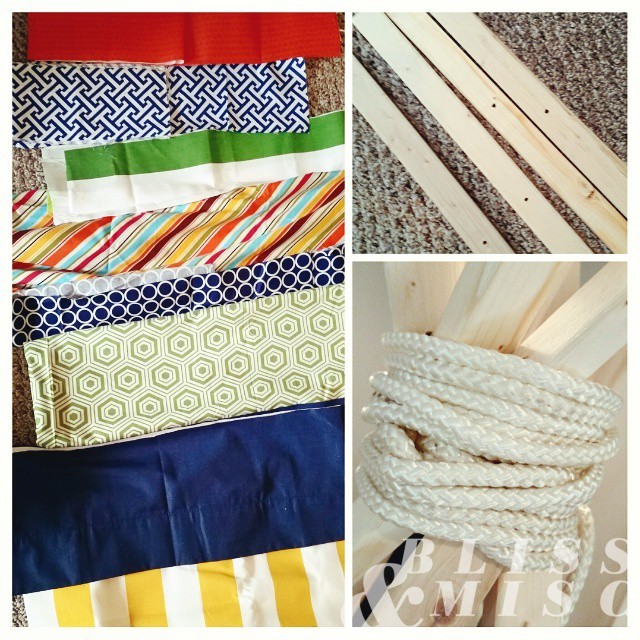 I just attached everything with hotglue. After finished I realized I COULD have actually sewn it all but I wasn't really looking for another sewing project since my sewing machine sometimes gives me issues (ever since Noah tore the tension knob off). This was supposed to be a quick project so I didn't want to spend time measuring and matching up seams, plus I wanted the edges to be kind of rough and unfinished.
It folds up just like a patio umbrella. I've moved it 6-7 times so I'm glad to see it will hold up. This is one time when Pinterest didn't lie to me. 🙂