Only two more days till the first day of SPRING and we are more than ready for it after all this snow and cold wet weather. Evan is already asking about swimming so I put him to work decorating eggs for Easter.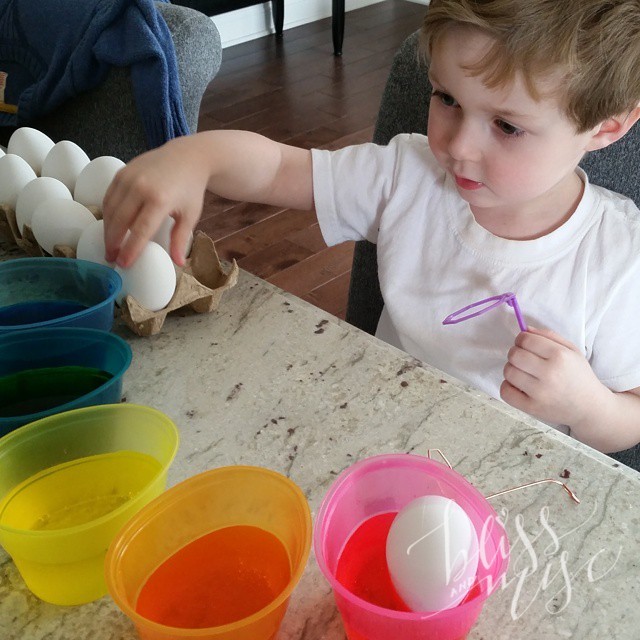 I found some fake craft eggs at Micheal's so I could let him go without worrying about breaking. Unfortunately I overlooked the directions on the bottom saying not to add water to the dye…so they turned out a little light. He didn't care much (since usually it's the activity rather than the end product he likes) so he and Noah happily added more color to them with markers.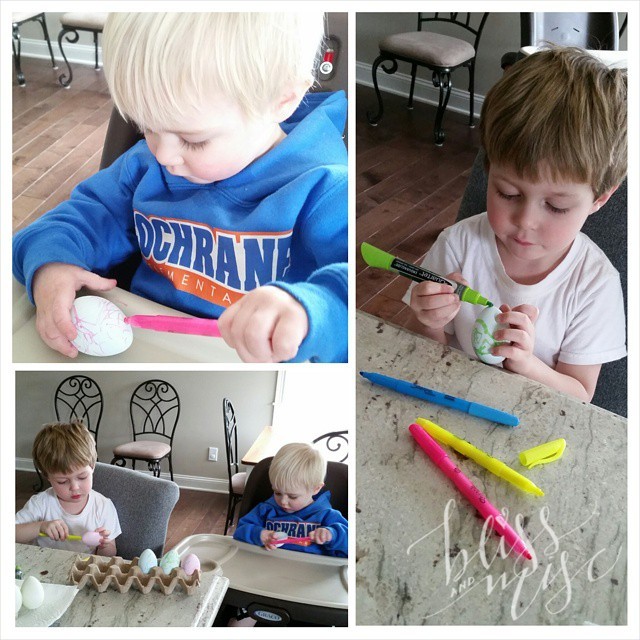 I decided to make another mesh wreath but as I finished it I realized it still needed something. So I thought I'd just pick up some butterflies from our NEW Hobby Lobby. Things are never that simple right? I couldn't FIND any in that entire store. Maybe they were sold out or more likely I overlooked them anyhow necessity is the Mother of invention so that's how I ended up making my own…
HOW TO MAKE FABRIC BUTTERFLIES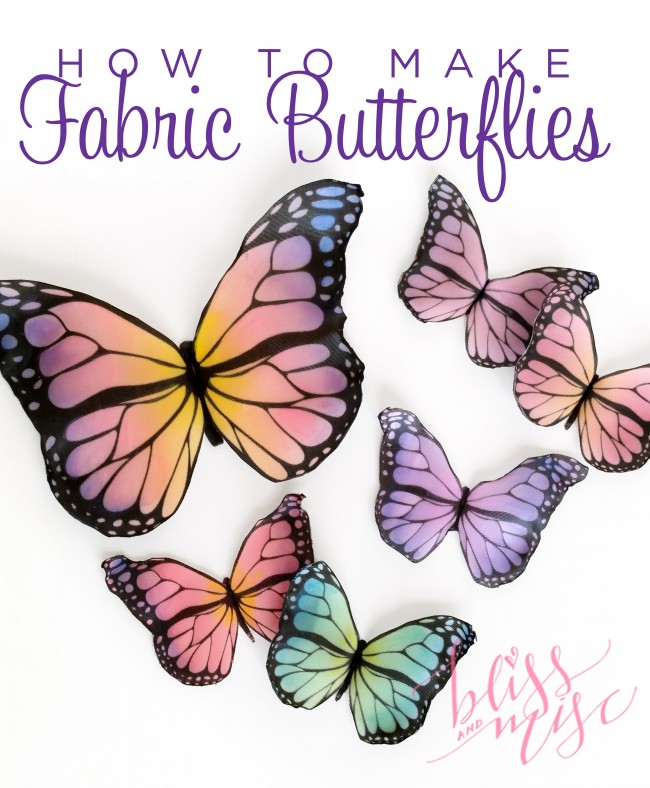 This is similar to the technique I used for my watercolor prints – just using different fabric and a few more techniques.
Supplies:
Cheap Taffeta or Satin (Taffeta works best since it's thicker)
A butterfly image (the one I used is here, but you could use any you find)
Freezer Paper
An iron
Computer & Inkjet printer
A candle
Spray Enamel
Acrylic paint & brushes (optional)
STEP 1:
Iron your freezer paper (shiny side down) to the back of your fabric. Then cut it into a 8.5×11 rectangle (I find it's easier to cut both once they're ironed together).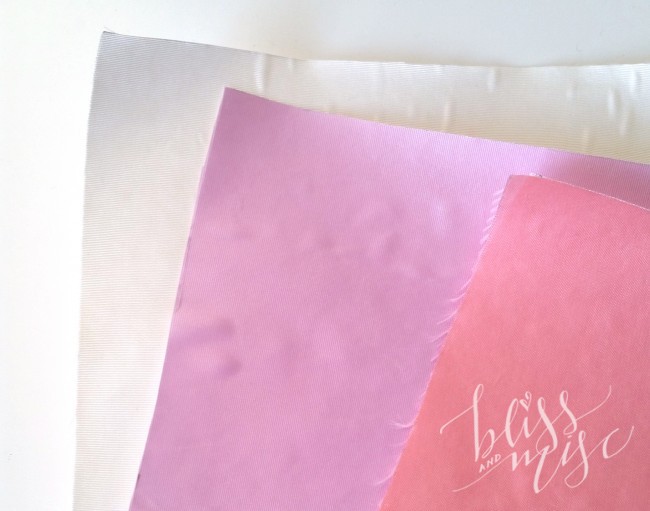 STEP 2:
Scale your butterfly image to the size you want. Mine were 6.5 and 3.5 inches. Then feed your fabric into your printer so the image prints onto your fabric.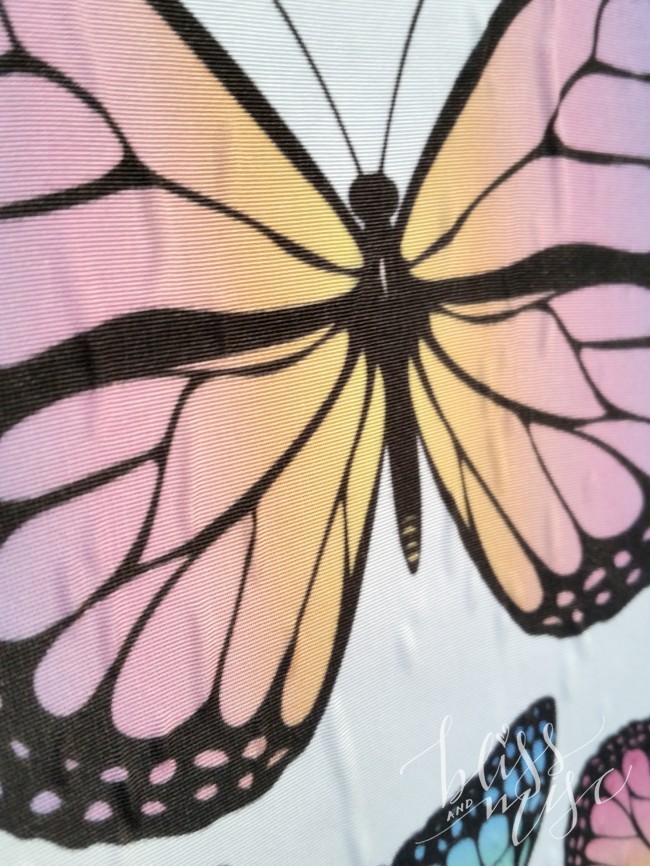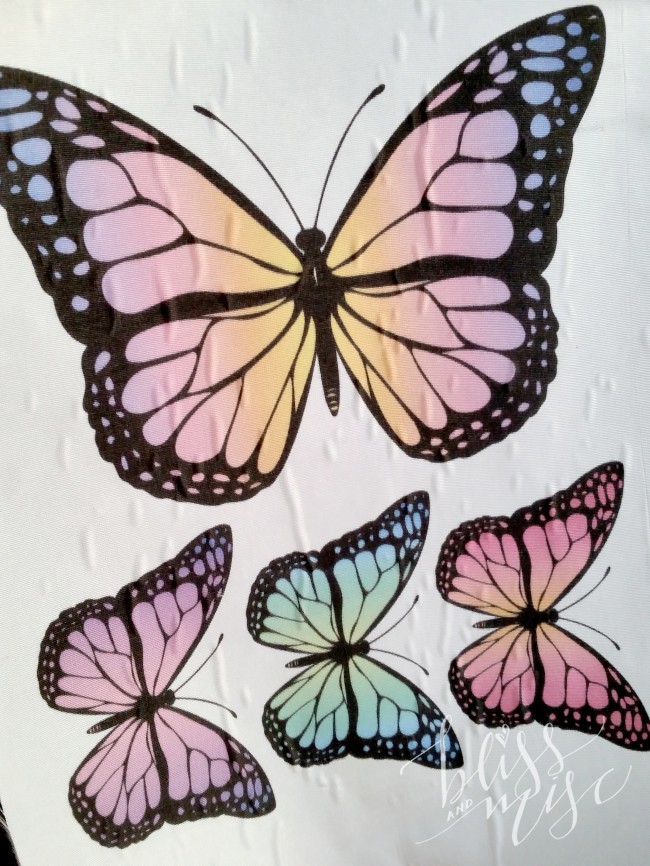 (Those bubbles didn't effect the printing at all and went away when I peeled the backing off)
STEP 3:
With the freezer paper still attached cut out your image (I realized later this would have been a perfect project for my Silhouette Cameo's Print and Cut feature).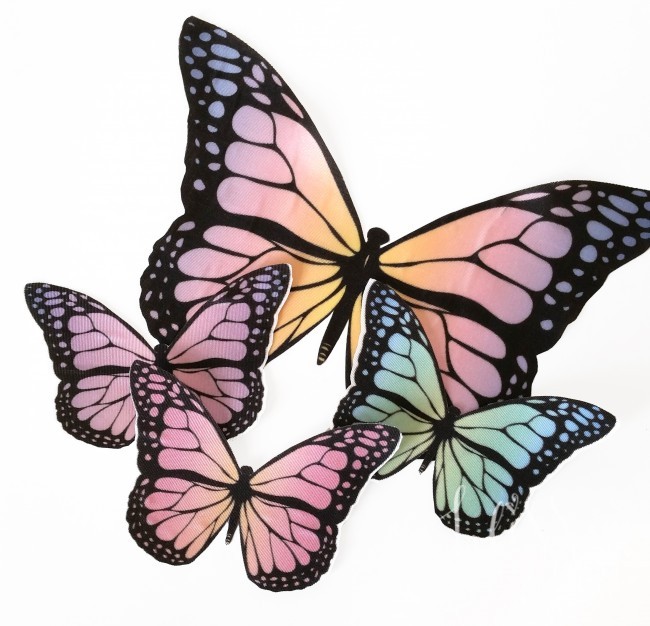 You could be done now if you wanted but the next few steps make them more durable and realistic looking.
STEP 4:
Peel off your backing paper! Then using a candle lightly melt the edges of your fabric – this will keep them from fraying but will also cause them to curl.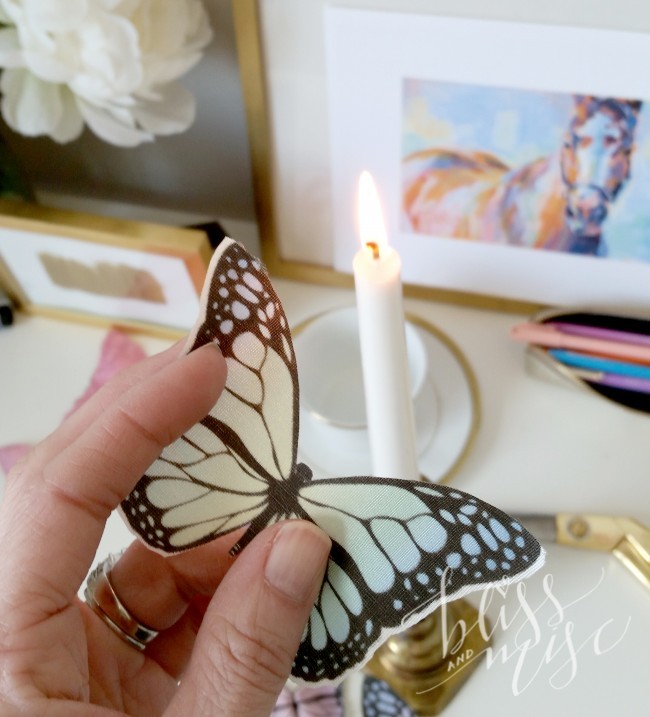 The more heat the more they will curl so I only just melted the interior edges to seal them but I let the outer edges curl more.
Then fold it in half and melt the folded edge. DON'T let it burn. The melting will give it some dimension from the body.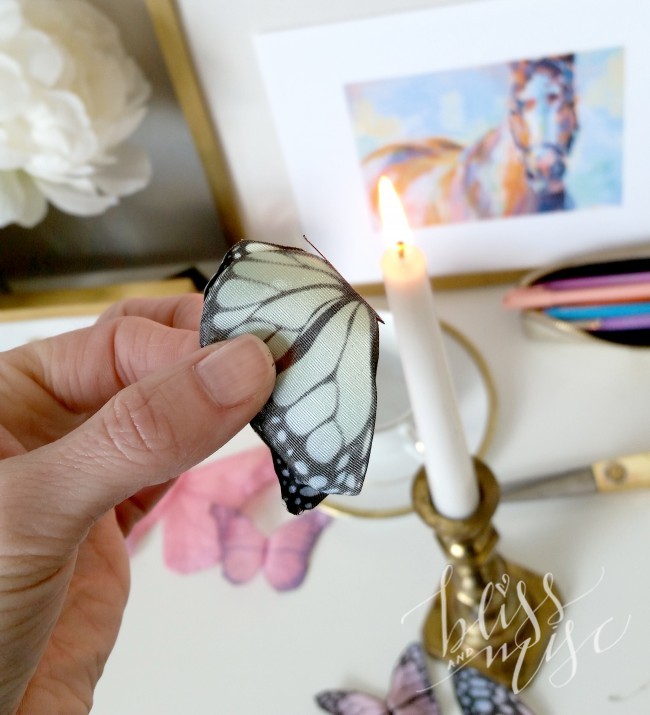 A Couple of Safety Notes: I like to use a tapered candle so I don't have to stick my hand down in something to get the edges close to the flame. Also you may want to have a blow of water close by in case it catches fire. The polyester helps it curl but that's because it is HIGHLY FLAMMABLE so use caution.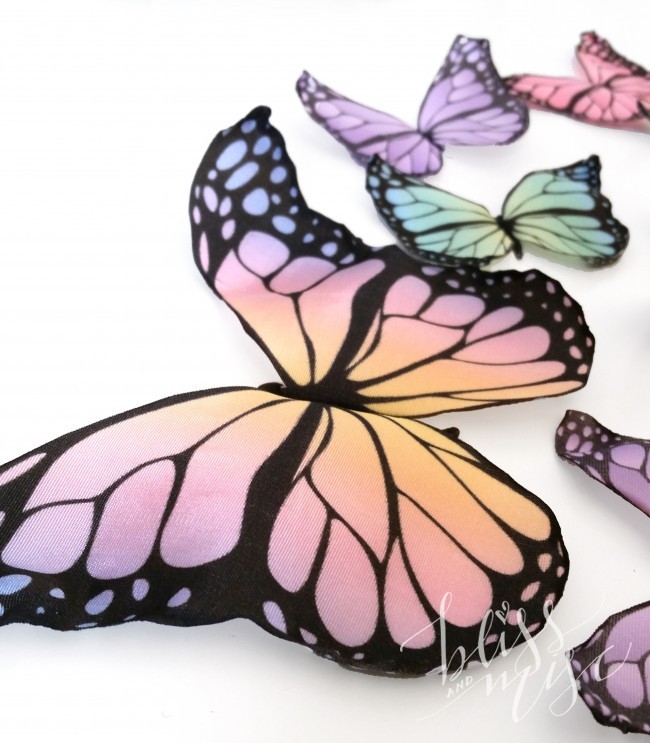 STEP 5:
To help seal the ink (since it would run when it got wet) and also make them a little more stiff, I sprayed both sides of my butterflies with spray enamel (also good for keeping cheap jewelry looking new).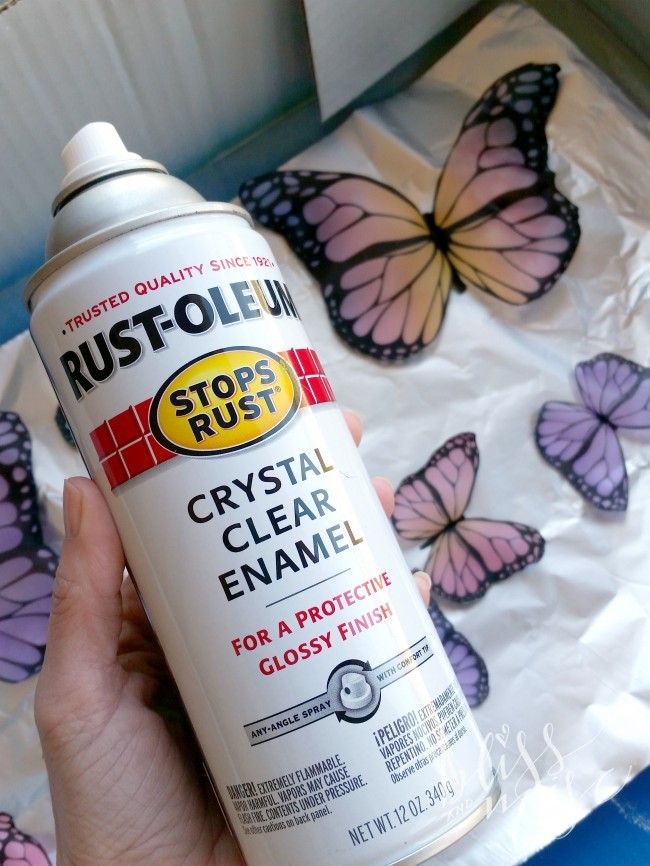 STEP 5:
This is totally optional but I wanted to add some more color to my butterflies so I used a tiny amount of acrylic paint and rubbed it on them to make them pop. I thinned my paint with water so it would blend better.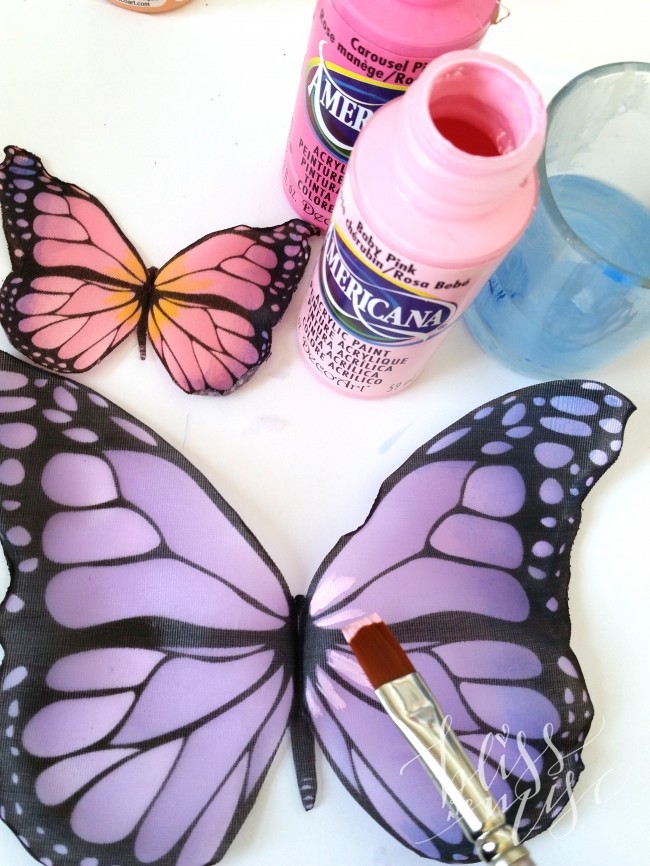 And that's it…
Then you can glue them to floral wire to add to wreaths or flower arrangements or perhaps add them to hair clips for girls for Easter.