I shared our Christmas celebration but I here are some of my favorite pretty things from this past season. I realize this would have been more helpful if I'd posted it prior to the holiday but so much was done last minute thanks to all the major construction projects going on around here…so just bookmark this to come back and read early next December. 🙂
Our Tree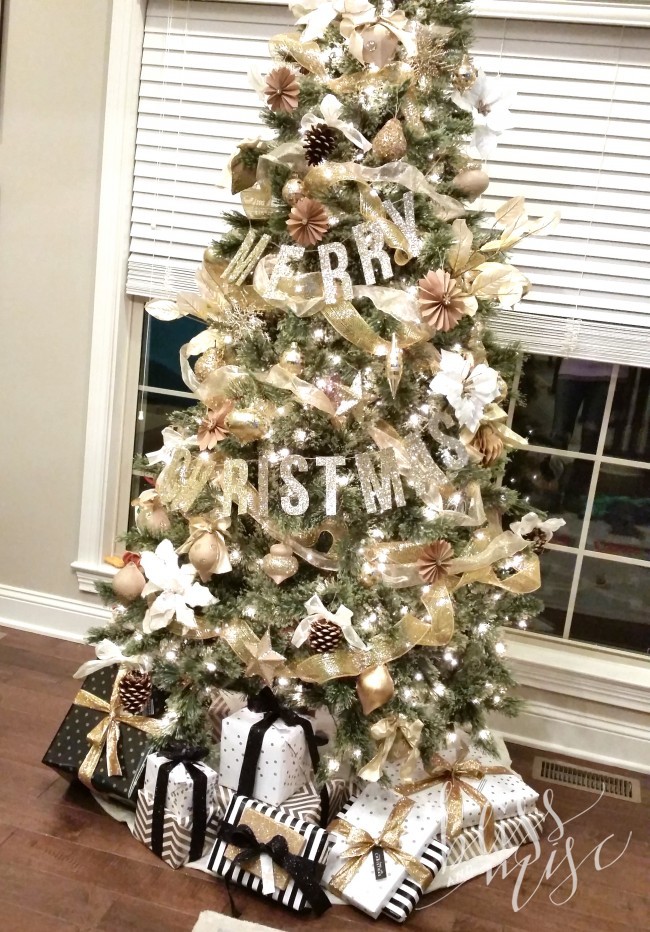 This is pretty much the same thing as last year. I still love my DIY kraft paper ornaments and surprisingly they survived being stored for a whole year.
I added the lettered banner this year. I've loved this since last year and since I wasn't making any new ornaments I had time to create these glitter letters from the backing of my 2014 wall calendar.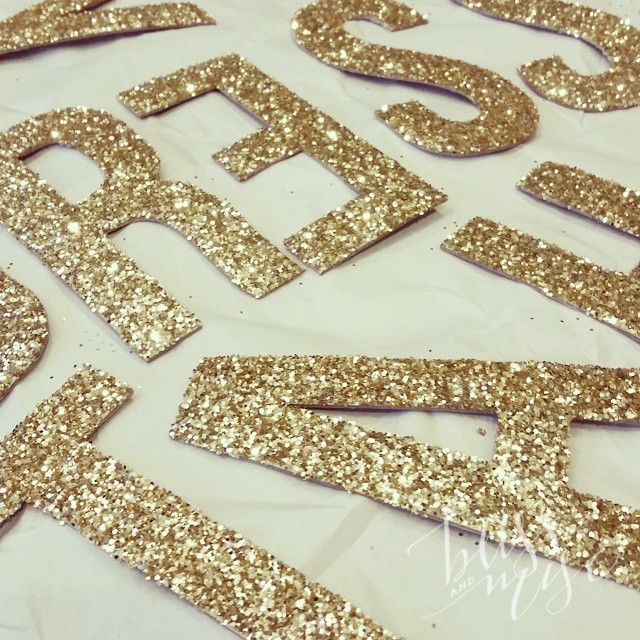 So shiny and pretty…so much glitter…much to my husband's dismay.
I found this black and gold paper at Michael's early in the season and it kind of snowballed a whole black and gold color palette.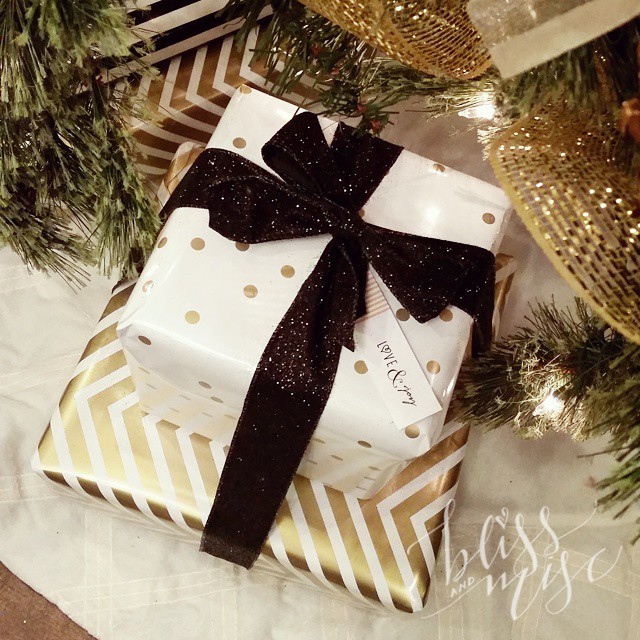 I used the FREE printable gift tags from Creative Index…so gorgeous and they matched my paper perfectly. I discovered her blog last year when looking for some printable tags so I've used them two years in a row. So it's definitely one to bookmark.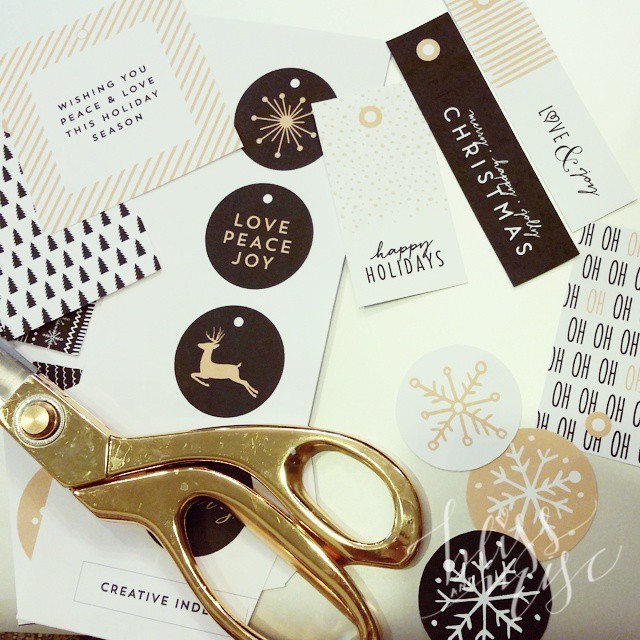 A mix of this year's and last year's tags.
Christmas Cards
Our Christmas cards were SUPER last minute this year…and as a result they were done in a single day. I almost didn't even do them but my husband loves having a picture of both of the boys and usually keeps a card for himself. So I changed the boys into their "Christmas" pajamas (I love that they weren't covered in red and green and candy canes). Then I plopped them in front of the tree then just snapped like crazy hoping I'd get at least one useable image.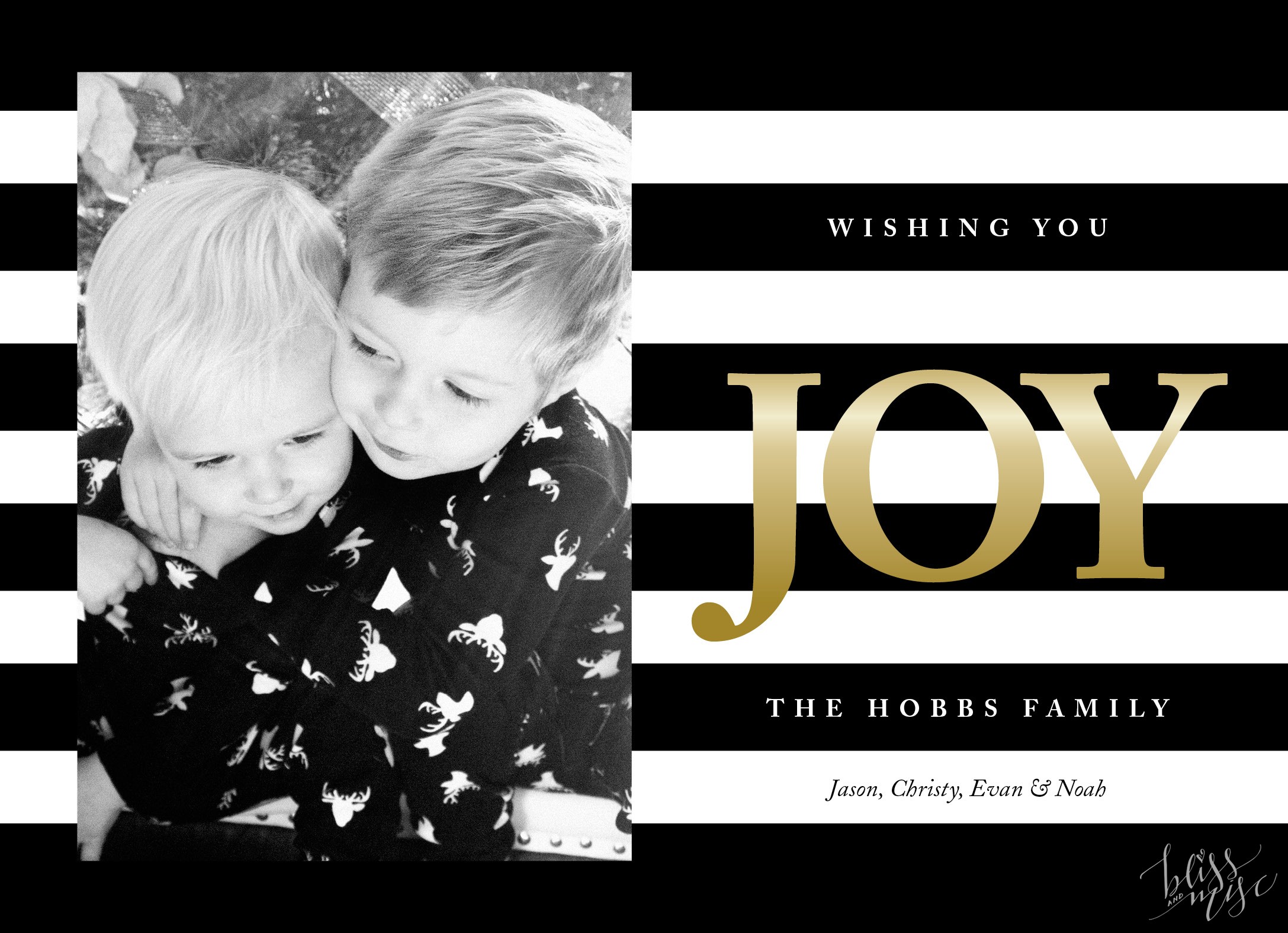 This one was pretty sweet of them.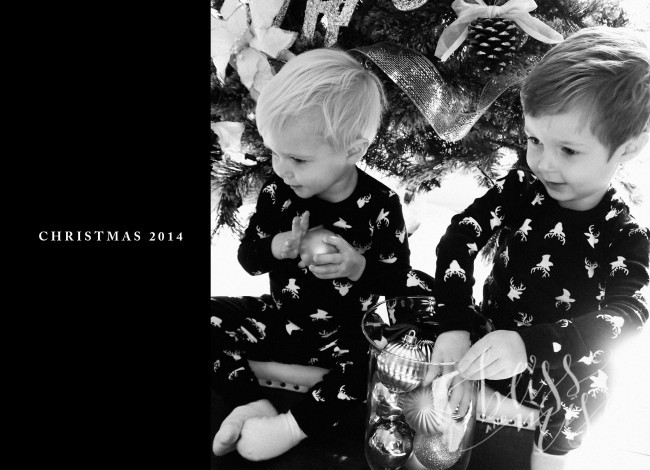 And the back…chucking my ornaments across the room.
I designed the card and sent it to Staples then picked it up that same afternoon. I used my Silhouette cutter to add some gold foil stickers to the front. I wanted black envelopes so I ended up hand addressing them all in gold pen…luckily we didn't have too many to send.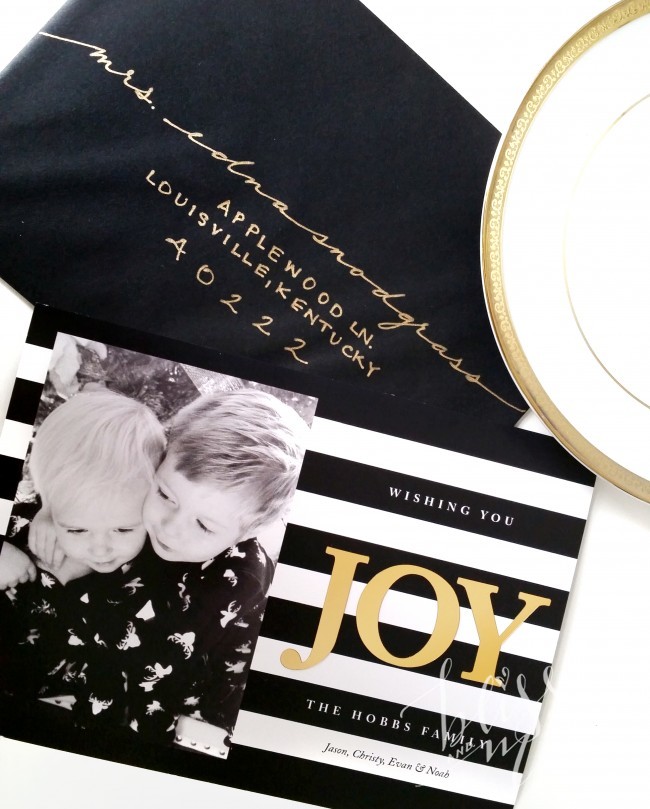 Maybe I should wait till the last minute every year.
Christmas Gallery
One of my last projects involved all these frames. My in-laws bought a new sofa so they gave us their old sectional since we'd been thinking about getting one for our living room. My artwork was horribly off-center (and if you follow me on instagram you know the whole story) so I replaced it with these frames I found on clearance at Michaels. I've been storing these for about a year waiting for the perfect spot to use them.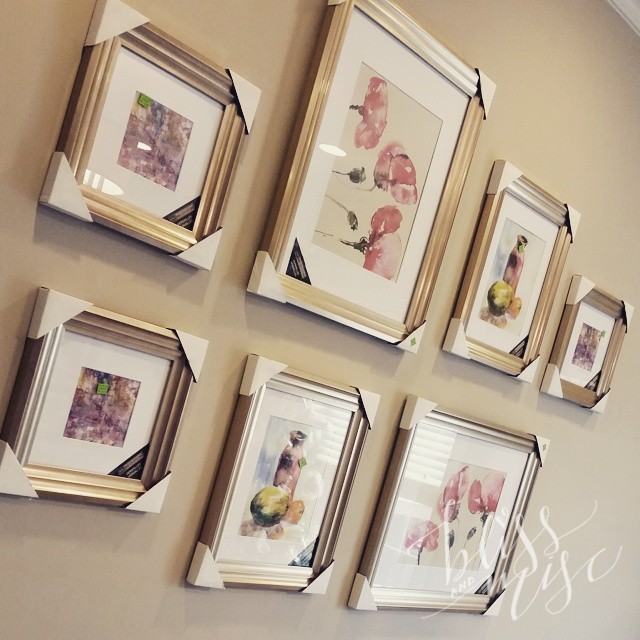 I got them hung a couple weeks before Christmas but never got around to putting anything in them (or even removing the price stickers and cardboard corners). So ON CHRISTMAS DAY my little brother helped me throw together this seasonal gallery about 15 minutes before everyone arrived for dinner.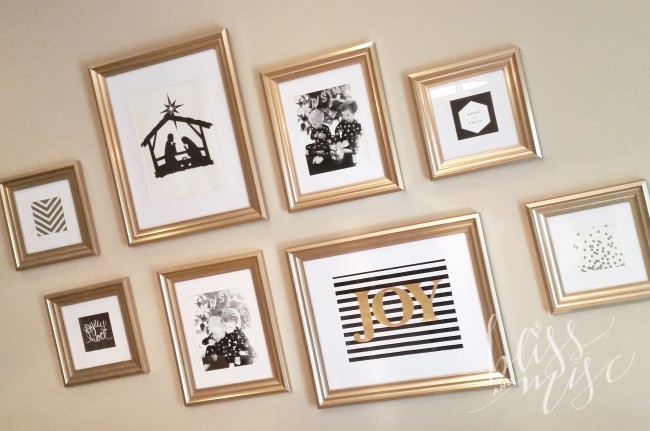 Some 8×10 prints from our Christmas Card photos, the Nativity is from the Silhouette store.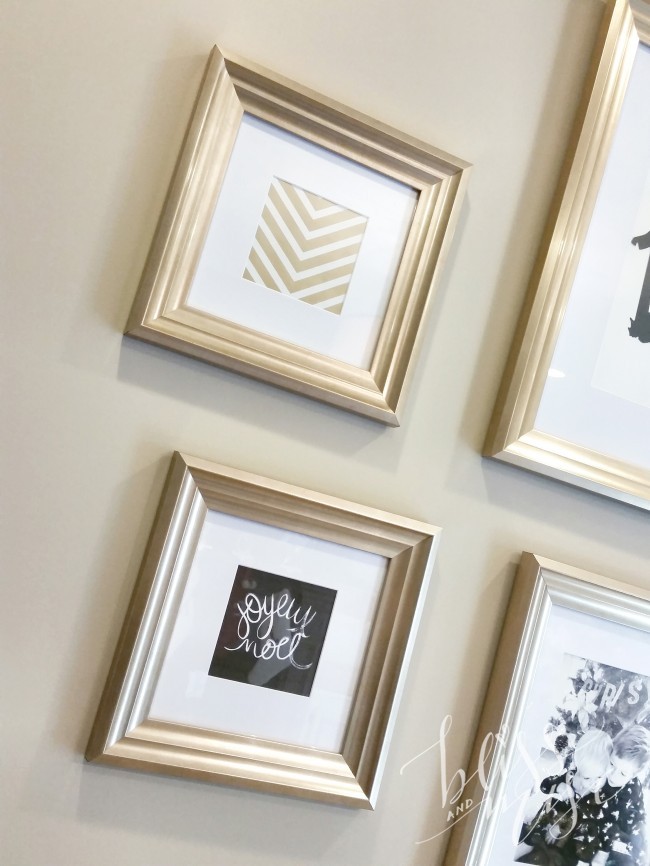 Yep, that's framed wrapping paper. The words are from the Tinsel app.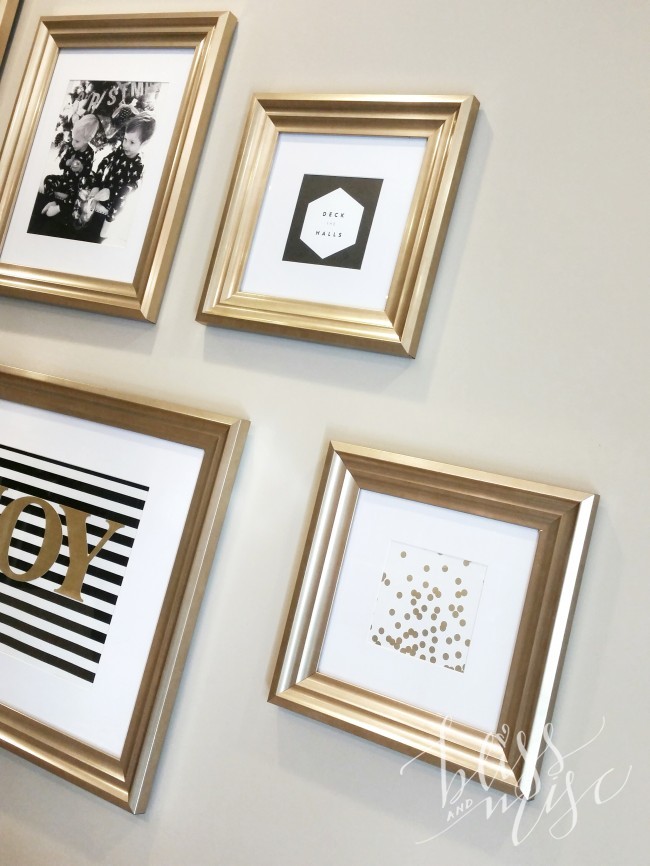 More wrapping paper…and simple text. I really like this one I think I might keep it.
Wrapping paper with some gold letters…just like our card. What can I say? I love a theme. 
Eventually I swap these out for something less Christmassy – but since they're not red and green I think I have some time (knowing me I'll be changing them out 15 minutes before Evan's birthday party in June).
Christmas Dinner
Lastly we hosted my whole family for Christmas dinner. It was nice not having to travel and thankfully my parents handled all the cooking. I just contributed some desserts and set the table.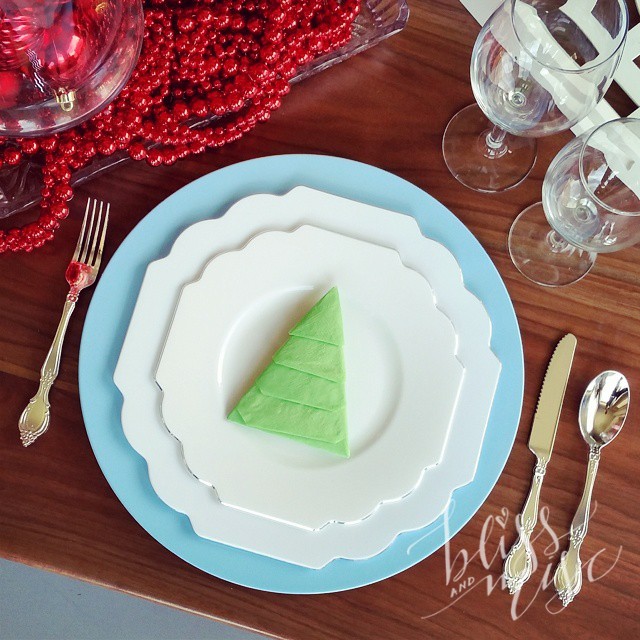 I had all our guests fooled that we'd put out the real stuff with these plates and silverware from Smarty Had A Party. The chargers were from Michael's on super clearance ($0.59) after fall. I spray painted them to be more festive. I didn't actually have napkins (because I forgot – whoops) these were left over from Evan's birthday party (tree fold here).
So there it is my last minute Christmas decor…shared 2 minutes before New Years…Enjoy! 🙂
New Year's Resolution: Plan Ahead More….hahahahaha! That's cute.
Revised Resolution: Plan Ahead at least once this year.