Yesterday I had a follow-up appointment for my wrist and also began physical therapy. The good news is that it seems as though I won't be needed another surgery so thankfully it won't add to my healing time.
Last Wednesday I got a custom brace which meant no more giant cast for this girl.
Not exactly what I thought I'd be getting for my birthday but super-excited about being able to wear thing with sleeves.
I have what is called Galleazi fracture. Apparently they're kind of rare. I kind of got that impression when I walked in to appointments and the doctor says "I haven't had to do a fix like that in 10 years", and the APRNs were like "I remember you! Did you SEE your xray?" Woo-hoo. I'm a medical celebrity around the Hand & Arm clinic.
Speaking of x-rays, my little sister insisted on not only seeing but photographing my x-ray. So here you go (if you're squeemish…SCROLL QUICKLY):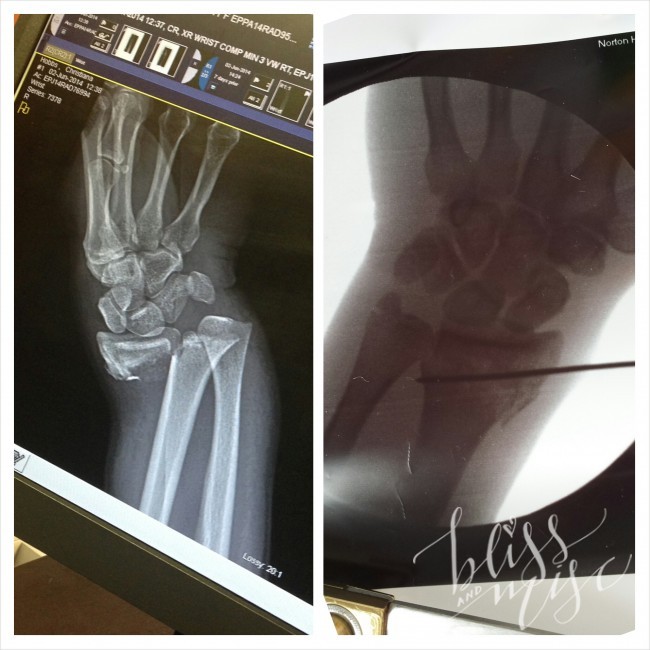 Ouch. The x-ray on the right is everything pinned back together.
Also apparently this type of fracture occurs mostly in men…it would figure that in my house full of boys even my broken wrist would be a dude's injury. I should have asked for a pink cast.
The pin should come out at the beginning of July. Right now my rehab is working on my finger and hand strength and so hopefully at that point all I'll have to do is therapy for my wrist.
Until then I'l be wearing this shirt that I whipped up.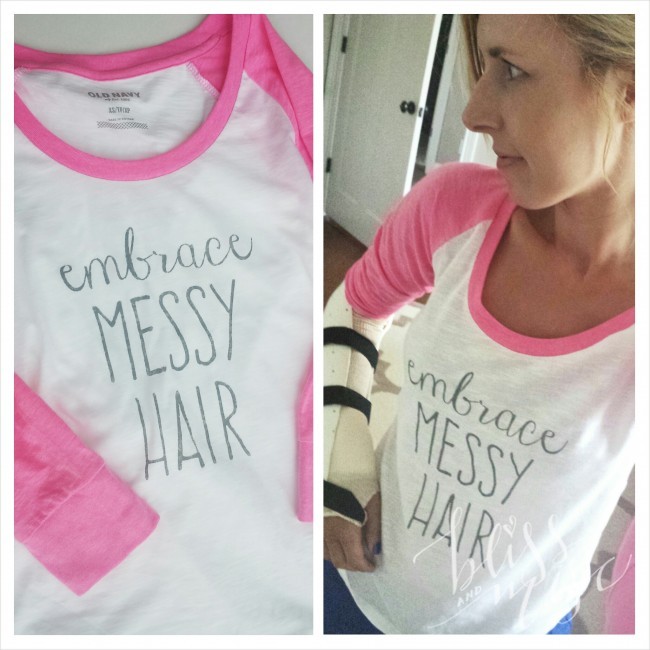 I saw this as a kid's tee on etsy and thought it was more than appropriate since I have to ask for help to even make a ponytail. I just used the same fabric painting method I used here.
So other than a cute shirt I've realized that there are some positives to this whole disaster. I got to spend more time getting to know my neighbors since one drove me to an appointment and another is helping me with the boys. Jason gets to get both boys ready for bed and tuck them in at night…also Noah has become less clingy since I can't hold him all the time. Lastly, I am forced to slow down…I have a hard time saying "no" to projects and work and I don't like asking for help but now I most definitely can't take on everything.
So that's where things stand. Hopefully they'll keep getting better!