Evan turned three this past week. It seems like not that long ago that I was writing this, and this. I can hardly believe he's going to be a preschooler next year. Two was a great age, he learned so much (like numbers to 50!) and can do so much more for himself now (which also means occasionally climbing things he shouldn't). He's still one of the best behaved kids ever, and I'm not just saying that because I'm his mom, because little brother could not be more different. So glad he's a rule follower (and regularly rats his little brother). I wouldn't hesitate to leave him alone with a box full of markers…he'd probably put them in color order.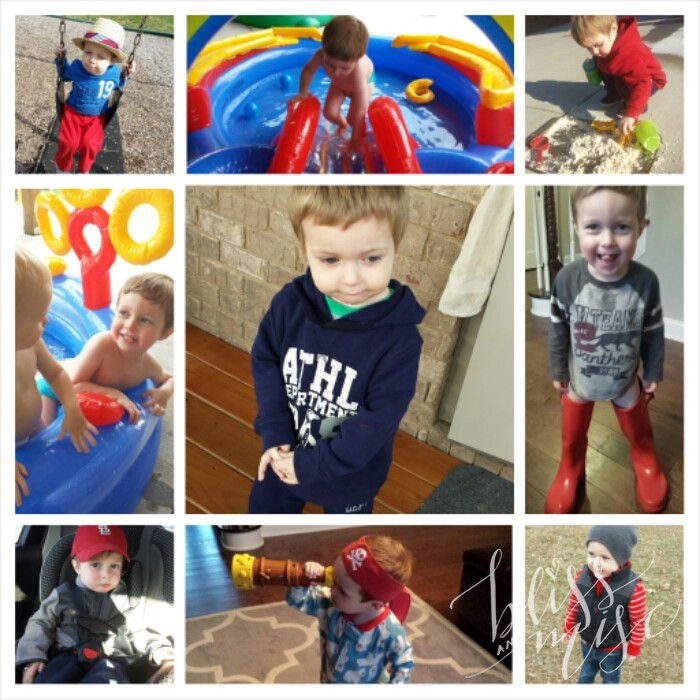 It was a much needed distraction since earlier in the week this happened: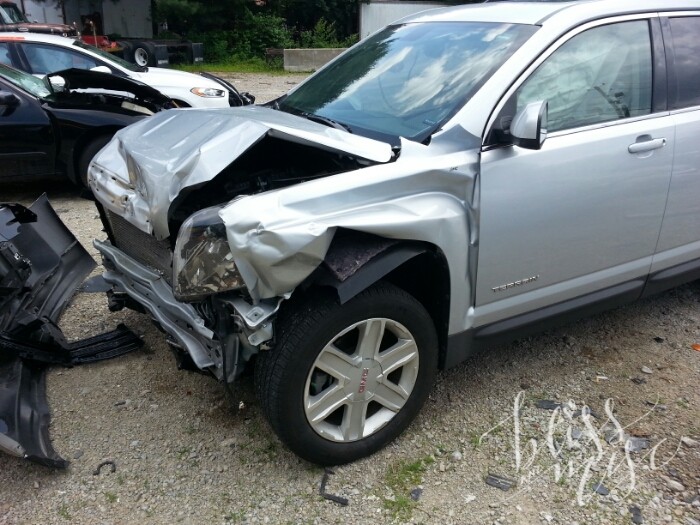 On our way to a play date a car pulled out directly in front of me and we T-boned it. Both boys were in the car and suffered only minor bruising. Evan got a burn from the seatbelt which looked awful but it cleared up completely in a few days.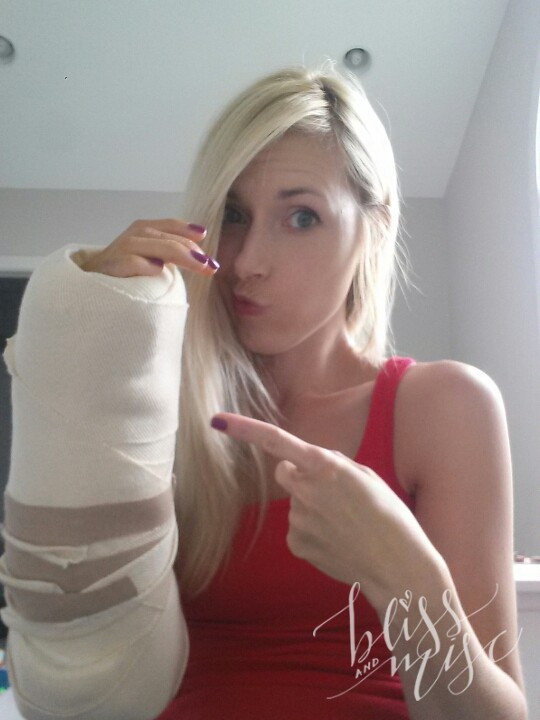 Unfortunately, I broke and dislocated my right wrist and will be one-handed for the next 7 weeks…so guess that kind of slows down my DIY projects. 🙂
I started planning his birthday party about 4 months ago, mostly because I tend to leave things to the last minute, but I also wanted to get myself plenty of time since I had two birthday parties to plan this year instead of just one. Now I'm grateful I did so much ahead of time.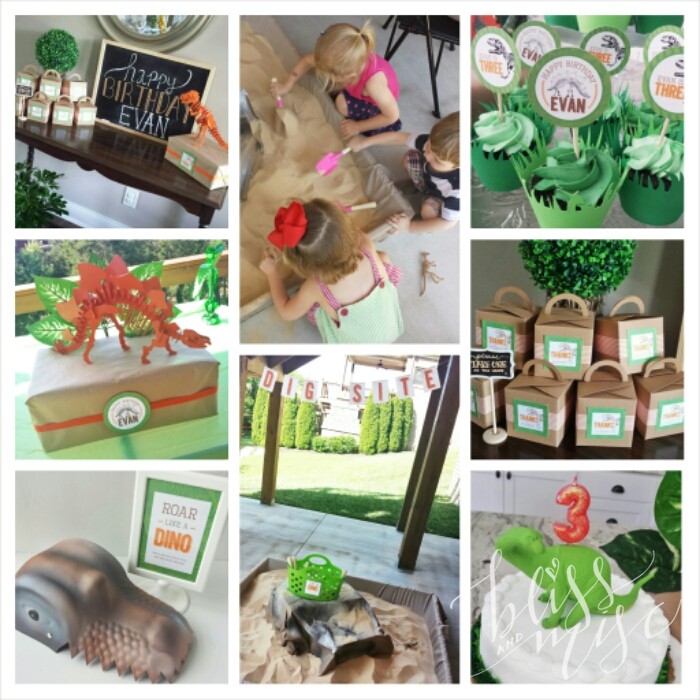 Evan loved dinosaurs so I figured that'd be an easy theme and I started buying up dinosaur items every time I saw them. So about a month ago when family would ask him about his party he tell them with absolute certainty, "I'm going to have a truck party". Of course he did (at least he didn't ask for a pirate/kitty party…true story). I chose to just not talk about it anymore and pray that he would forget by the time the party rolled around.
I designed his invitations. The stamps just happened to work well with them.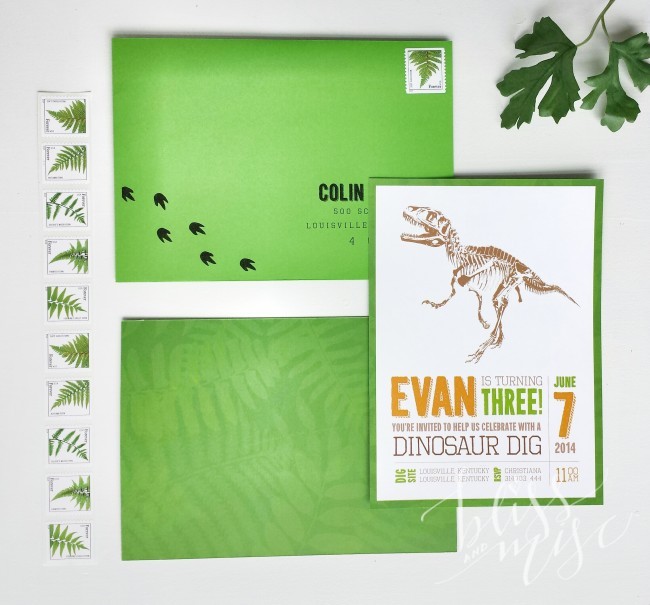 For favors I grabbed a few dino toys from the Dollar Store along with some play-dough & dino shaped fruit snacks.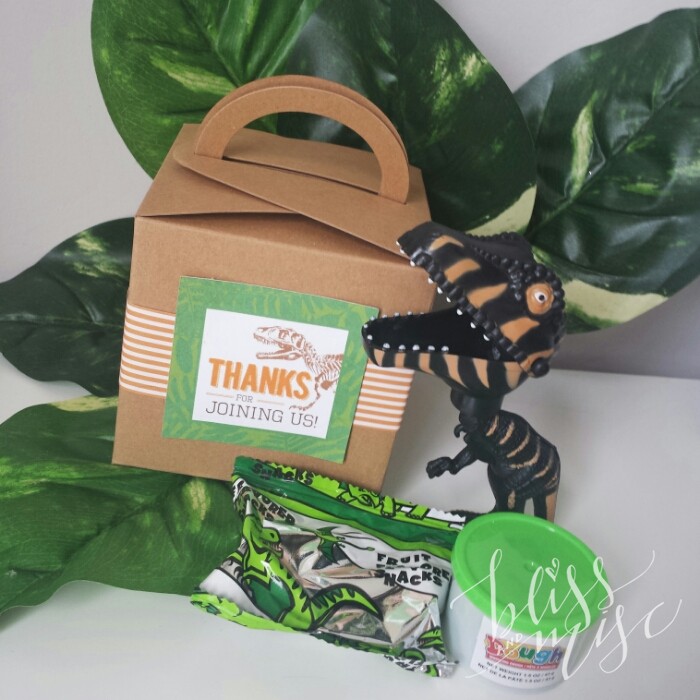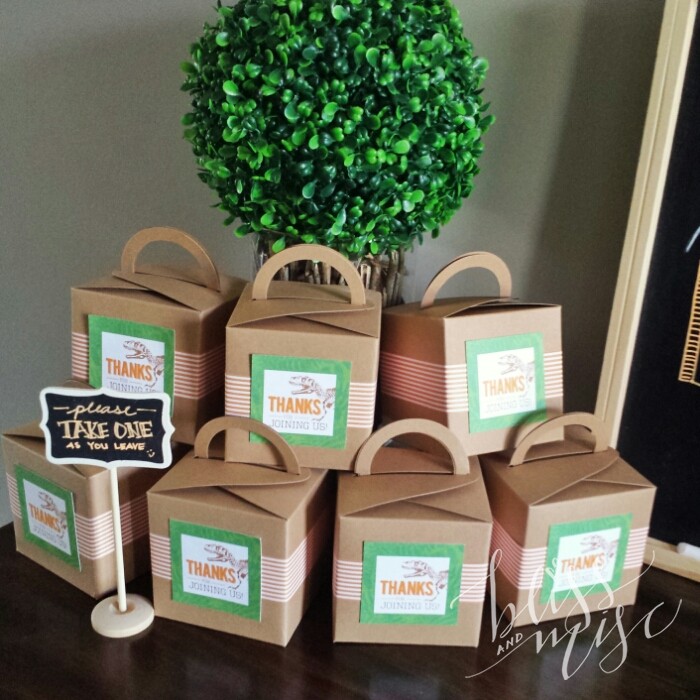 The handled kraft paper boxes were from Pick Your Plum, I tend to pick up cute packaging because it comes in handy for last minute gifts throughout the year.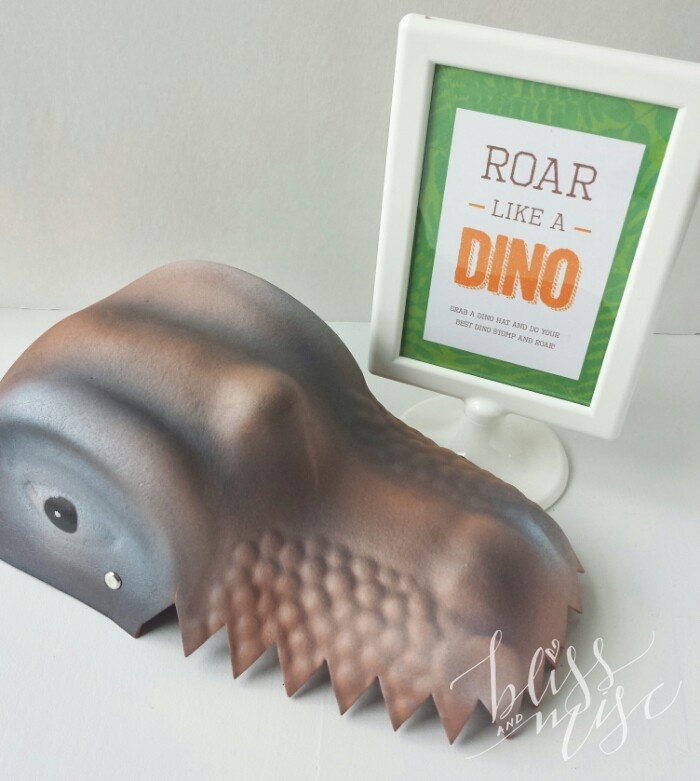 These cute Dino hats were from the Dollar Store. Evan loved them when he saw them and promptly asked me to put one on and roar with him.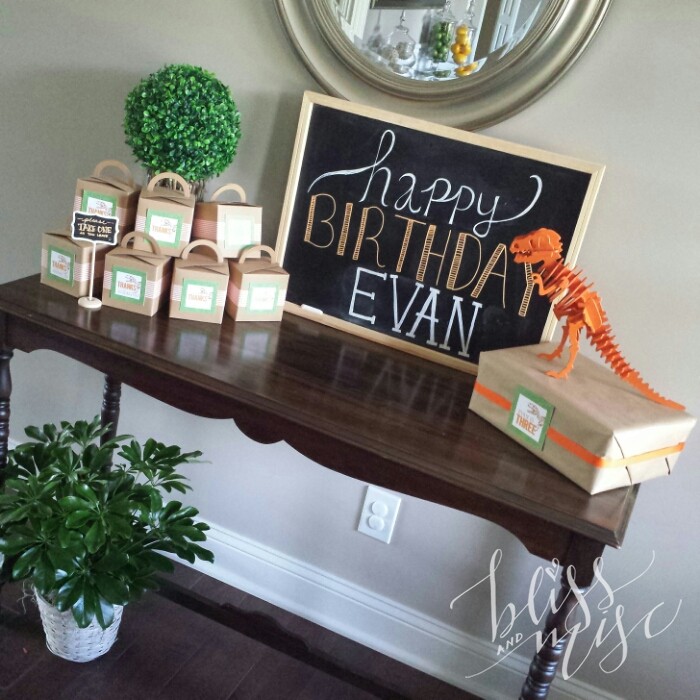 My sister did our chalk art since if I would have done it it would have looked like Evan wrote it.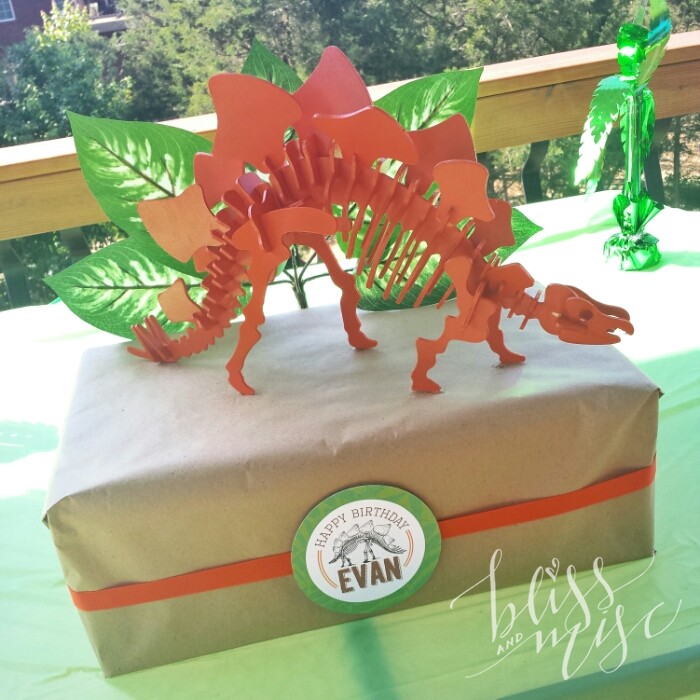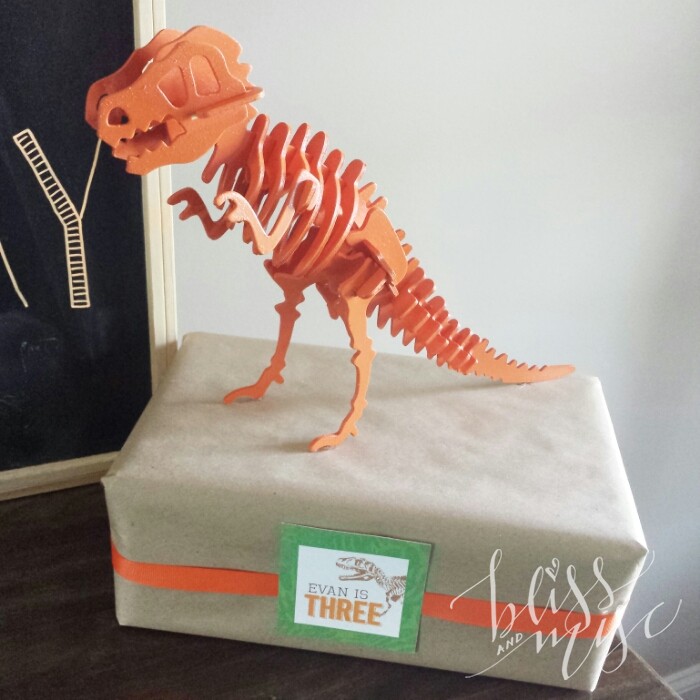 The dinosaur models were from eBay. Evan help me put them together then we spray-painted them orange. I just wrapped some storage boxes (left-handed) with Kraft paper and hot glued the models down to keep them from getting knocked over.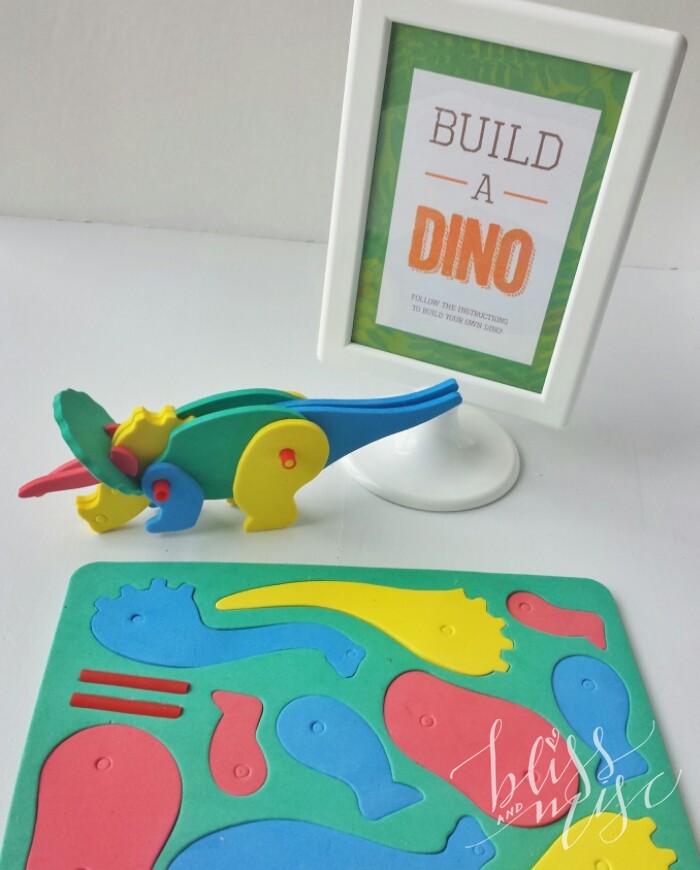 I found the foam 3D puzzles also at the Dollar Store (they were my back up activity in case of bad weather).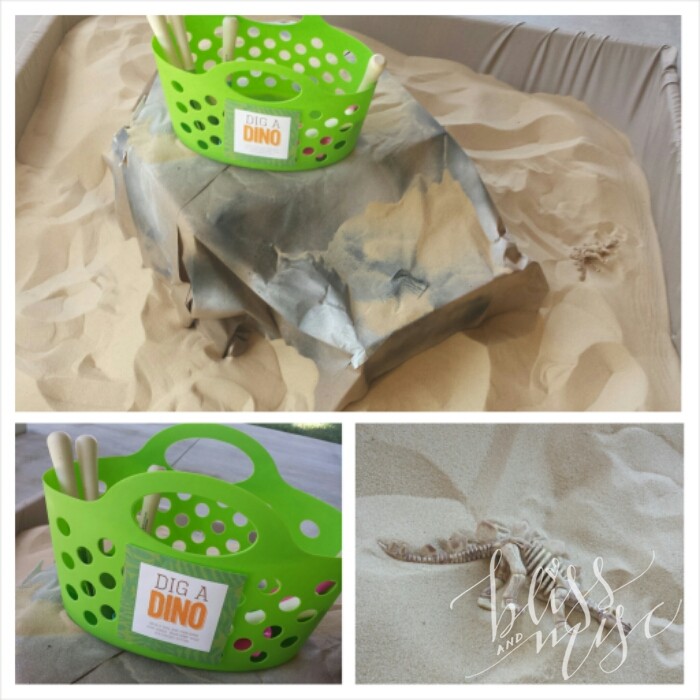 Lastly I created our Dig Site. We'd recently gotten a Little Tykes Turtle Sandbox for free but I thought it might be a bit small for 8 preschoolers. So I created this instead.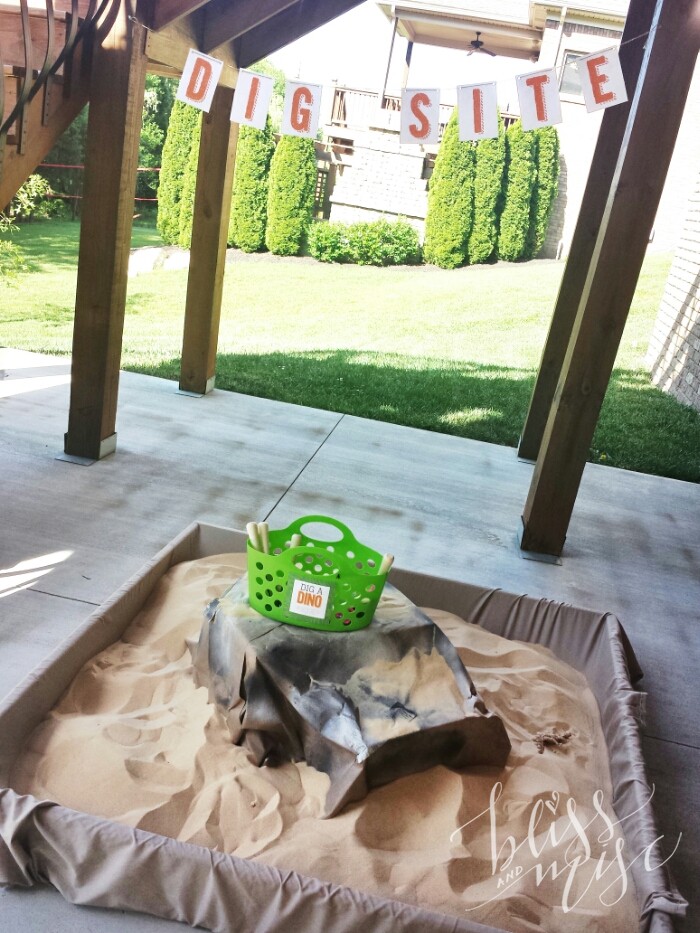 It was just a couple of 1x6x8s from Home Depot. I had the cut in half at the store, then I measured and pre-drilled holes. I screwed everything together to make a frame.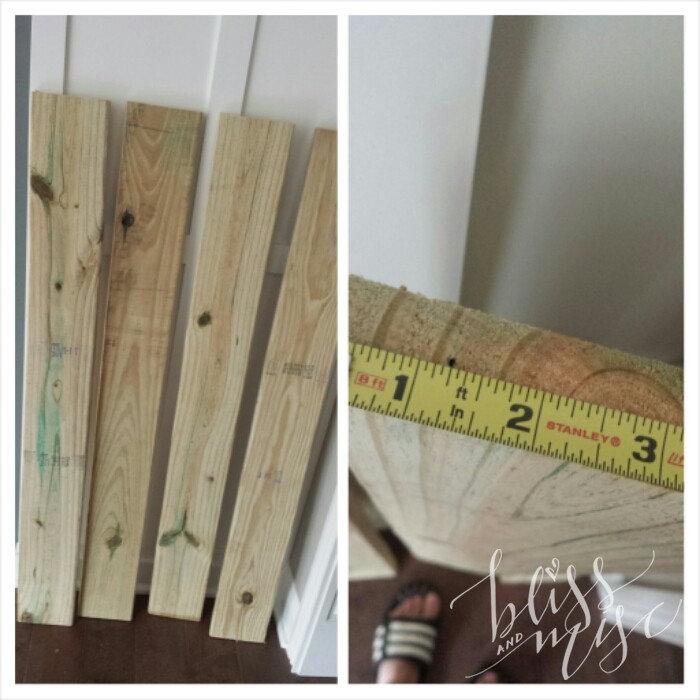 I figured it was bad enough I was inviting kids to play in sand (and their parents may not enjoy having sand tracked into their cars post-party) plus I wanted to use the sand in our sandbox after the party (and it would have taken more to fill the dig site than we needed)…so I created a faux boulder for the center of the box. Problem solved!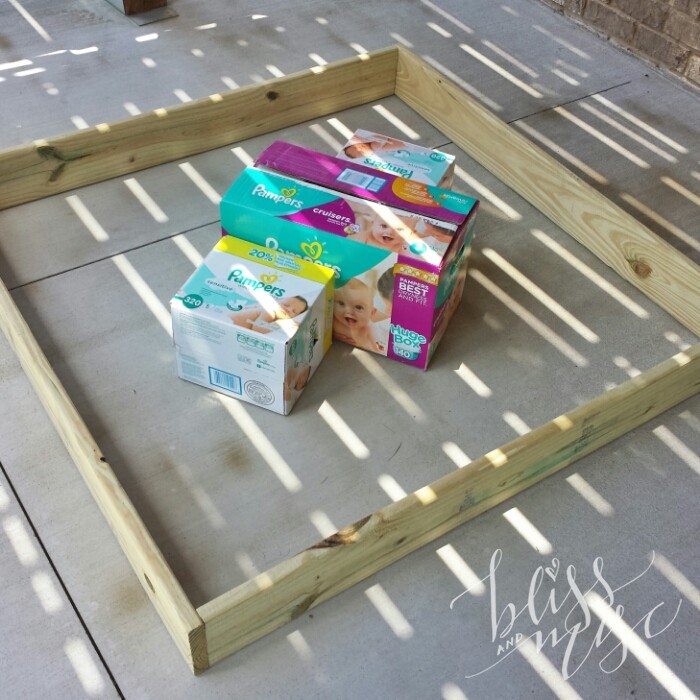 It was just a few diaper and wipe boxes that I taped together. Then I wrapped them all a big piece of kraft paper and spray painted the whole thing with white and black spray paint (spray painting is super easy to do left handed if it doesn't really matter what it looks like).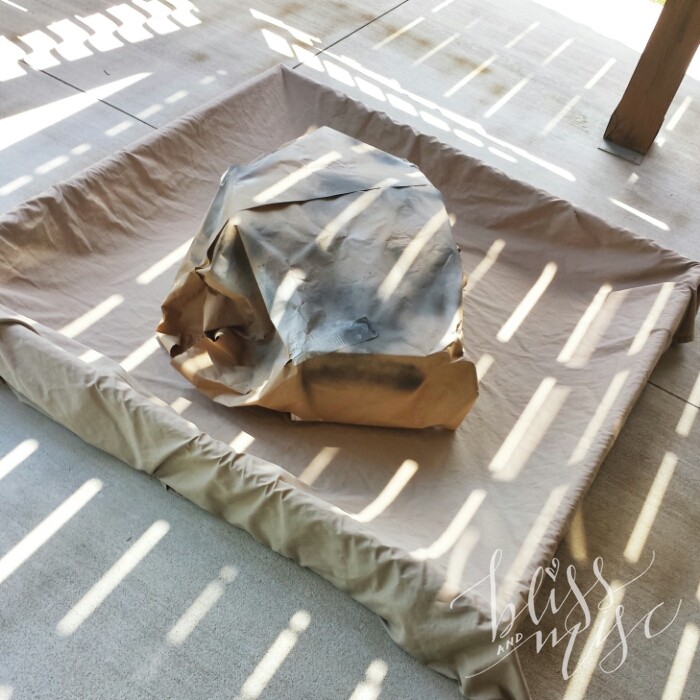 I lined and wrapped the frame in a cheap tan sheet from Walmart. I think it was $3.50, I don't think I could have found cheaper fabric. Then I taped the edges so it wouldn't pull loose.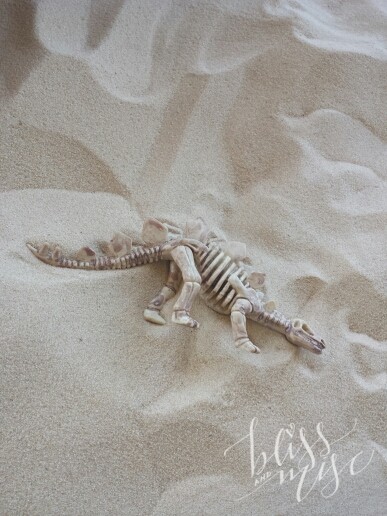 The shovels were from the Target Dollar Spot and the basket another Dollar Store find. I found the Dino skeletons on eBay.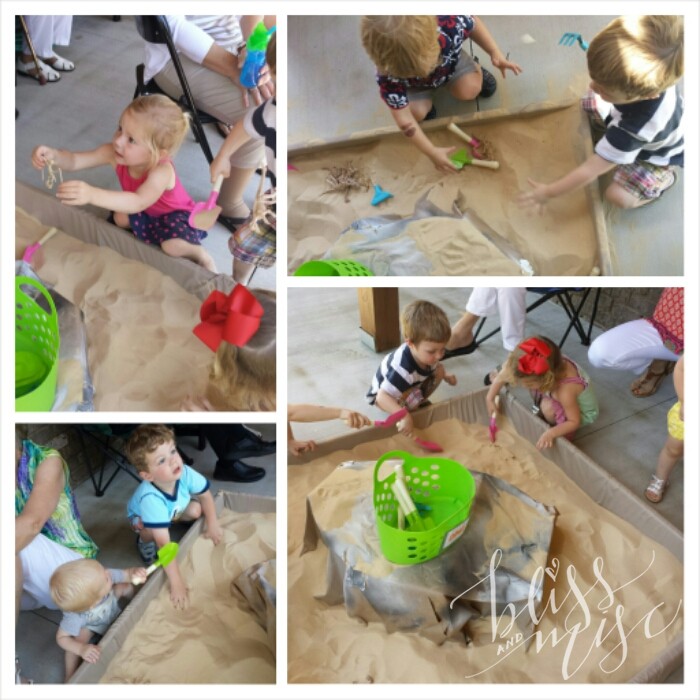 They were a huge hit (although a little "scary"). The kids dug them up, then buried them, then dug them up again.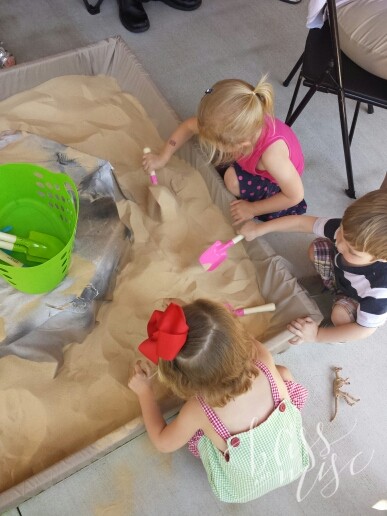 Evan absolutely loved it and spent most of the party there.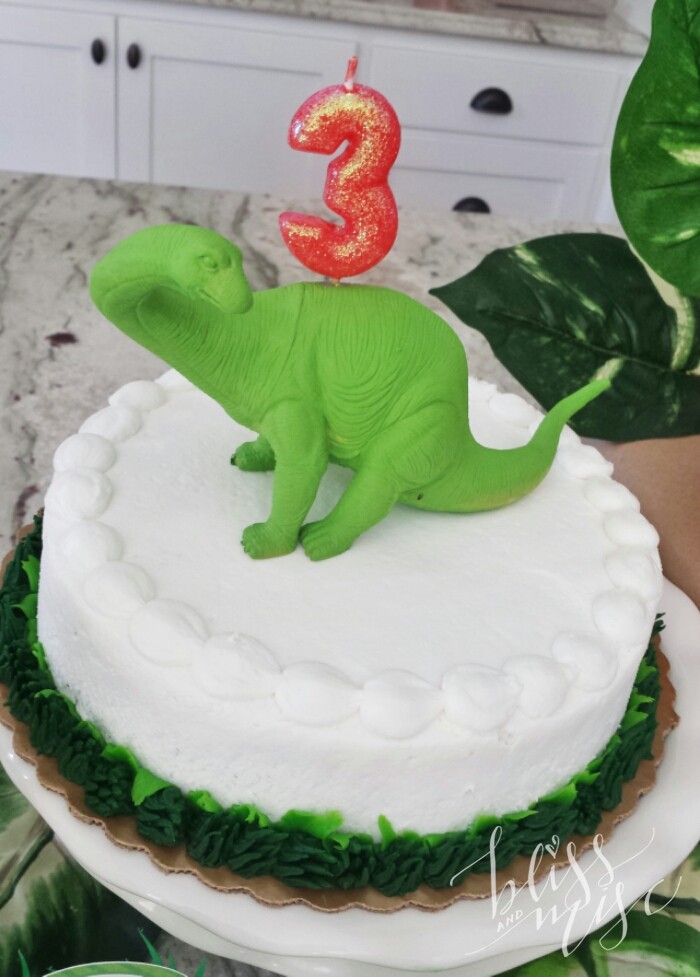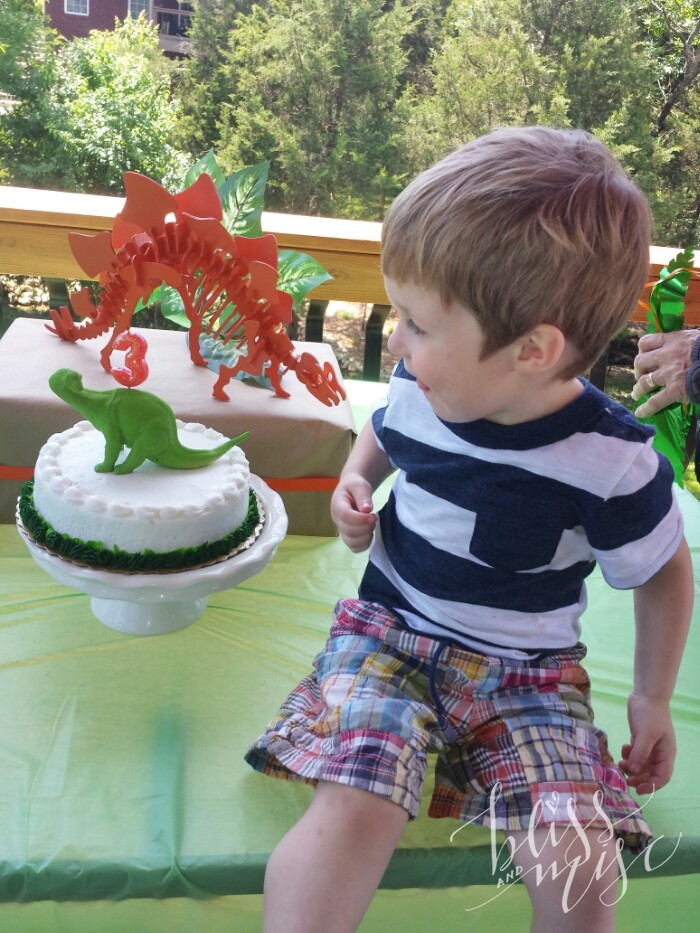 Our cake topper was just a toy dinosaur I painted with non-toxic paint and stuck a candle in.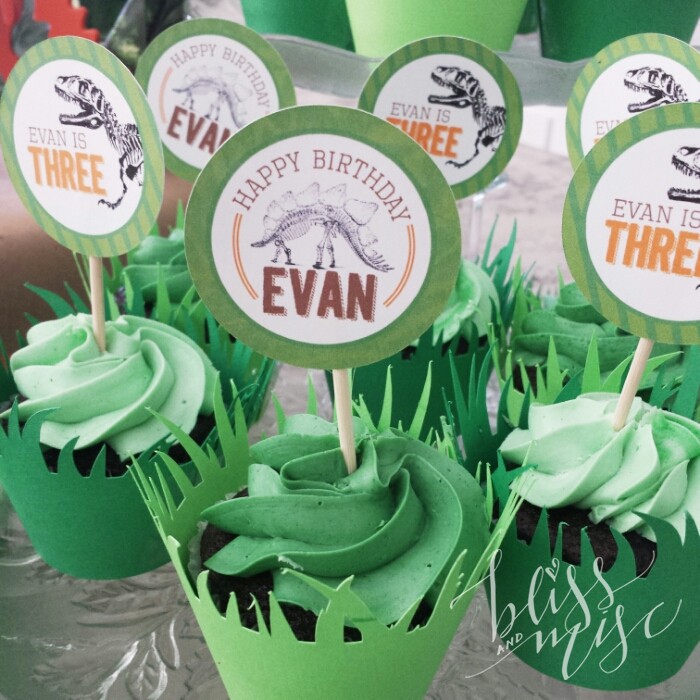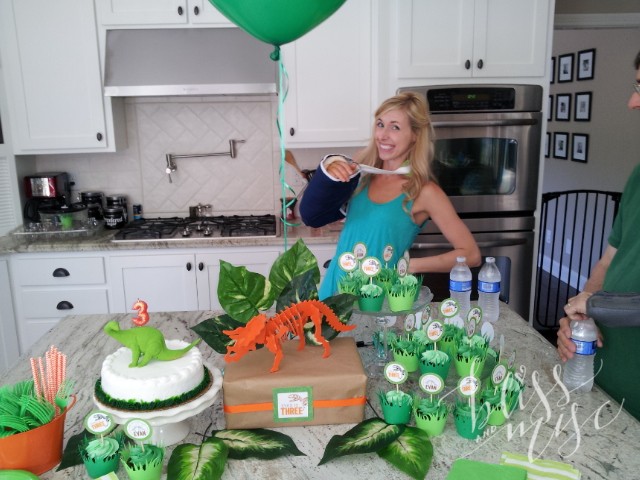 I created the cupcake wrappers and toppers on my Cameo (which came in handy since I couldn't hold a pair of scissors).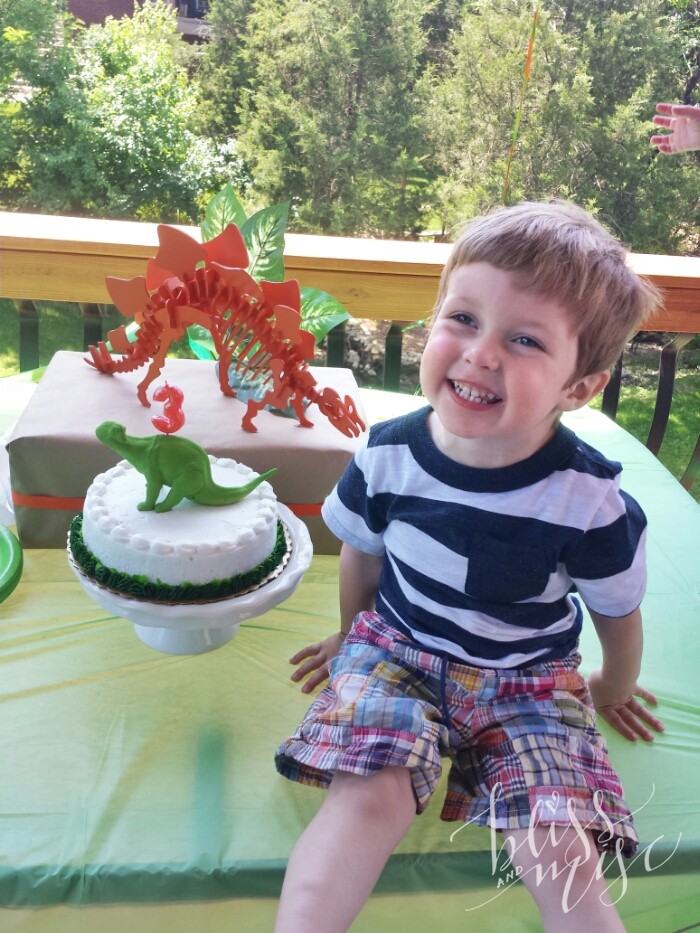 I'm so glad we didn't postpone his party. The weather was beautiful and we all needed a day of fun with family and friends.