I recently had the pleasure of having some of my beauty favorites featured on MadeByGirl. Hop over and check out the post! But as an addendum to that these are my favorite things to help me get out of the house looking (remotely) presentable when I'm short on time (and I'm always short on time). While I could blame the boys, I have to admit I had trouble making it out of the house promptly as a single child-free professional…so yes, it's all the boys' fault.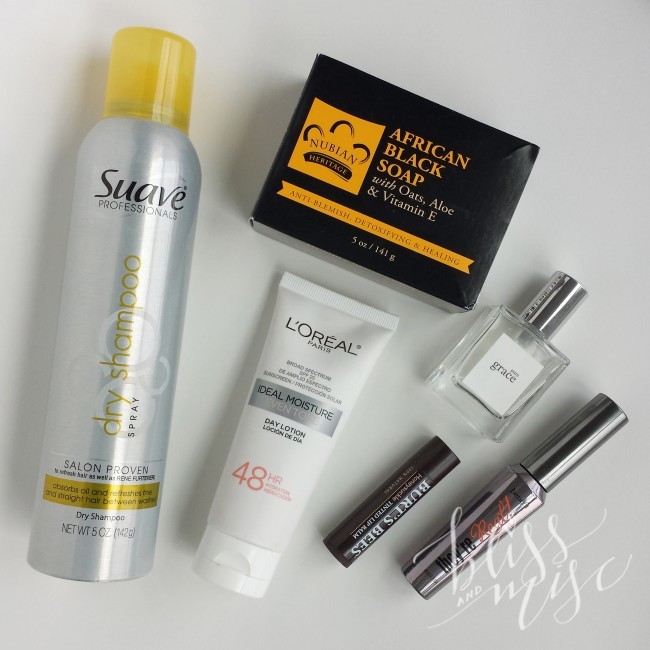 PHILOSOPHY PURE GRACE:
Philosophy in general is one of my favorite brands but Pure Grace is my favorite scents by far. It just smells like clean and soap, and since I don't always smell like clean and soap, I grab this to keep from offending those around me. Another thing I always do is to buy the travel size of perfumes. I used to invest in full sized bottles but it would take me forever to get through them or I'd decide I didn't like them as much as I'd initially thought so now I don't waste money on something I use half of then banish to the back of my bathroom cabinet. Plus they're easier to store in my bag (portability is everything to me).
AFRICAN BLACK SOAP:
I actually was just recently introduced to this at a "Favorite Things Party". I had just run out of my favorite (and more expensive) facewash so it was a case of right place and right time! I was blessed with flawless skin during my pregnancy but now that my baby is nearing a year my skin has started to get back to it's old (awful) habits. This has a nice clean scent and is non-drying. It's full of wonderful organic ingredients like Coconut oil, aloe and Vitamin E, plus it's sustainably produced. Even better a bar is around $4. I love something that works and is a great deal!
LOREAL IDEAL MOISTURE EVEN TONE: 
Anything that can save me a step or two in the morning is a must-have, especially if I don't have time for much more than washing my face and throwing on a moisturizer. This one is fabulous. It's got SPF (which we all need) and contains a little bit of a sheen which helps to even out the appearance of my skin. It's non-greasy and has a scent of it since many combo products smell a bit to much like sunscreen.
SUAVE DRY SHAMPOO: 
I love love love dry shampoo. It definitely helps on mornings I don't have time to wash my hair but I also use it right after blow drying to give my hair a little texture and volume. I also use it when my roots have grown out and I haven't had time to touch them up. I'm so glad that drugstore brands (Suave, Tresemme) make versions now. I used to pay $10-20 for it at Sephora but now I can keep it in stock for around $3.
BURT'S BEES TINTED LIP BALM:
I've never been much of a fan of lipstick on myself, I can't seem to get the color right or it wipes off and I forget to reapply. I love Burt's Bees products in general and this 100% natural lip balm gives my lips a touch of color while keeping them from getting dry, plus it's error proof (no needing to worry about "color in the lines"). My favorite color is Honeysuckle, it's a nice peachy natural color with just a little sheen.
BENEFIT THEY'RE REAL MASCARA:
Pretty lashes help make me feel more pulled together even when in reality most of the time I'm far from it. This mascara goes on great and doesn't flake or require more than one coat. It stays on all day and doesn't clump. That's pretty much everything you'd ever want from a mascara – unless it could apply itself.