So remember how I mentioned my next project was updating our master bedroom? Remember how I also promised to get distracted and never finish it? Well I did it! By "it" I mean both get distracted and have failed to finished it. I like to set attainable goals.
So it may not be totally finished but I think I've reached a good point to share the progress I HAVE made (plus if I never get any further at least it won't be like my office makeover).
So here it is today.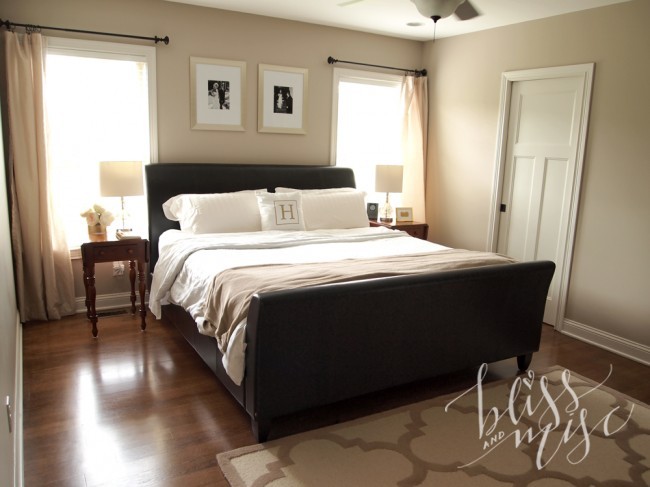 Definitely an moving in the right direction. As I mentioned I wanted a neutral palette since this is the one place I can keep toy free and it has minimal toddler-traffic.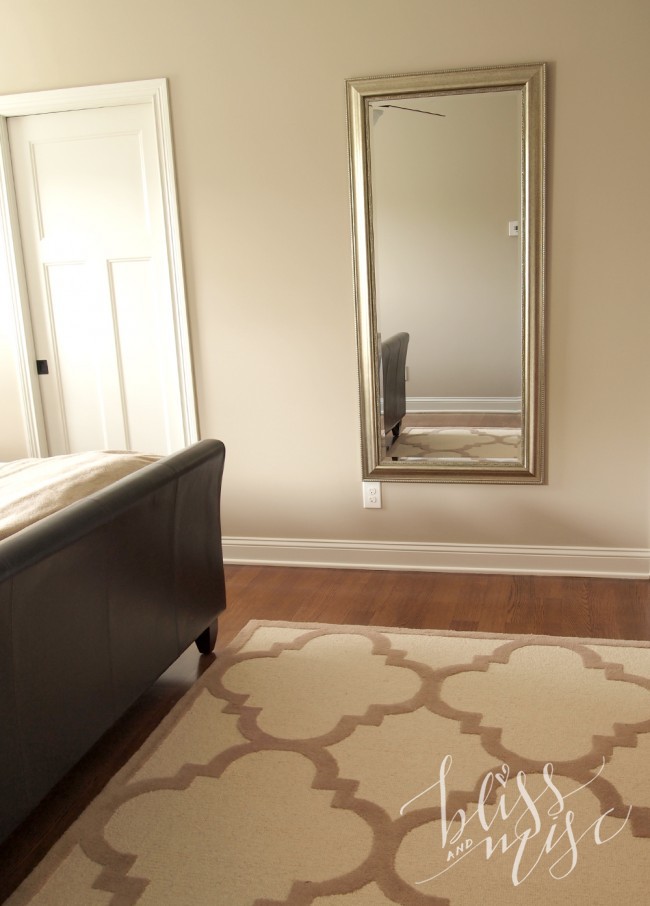 The rug was purchase from Joss & Main (see my review here). The mirror is from TJMaxx/Homegoods (words cannot even express how much I live TJMaxx).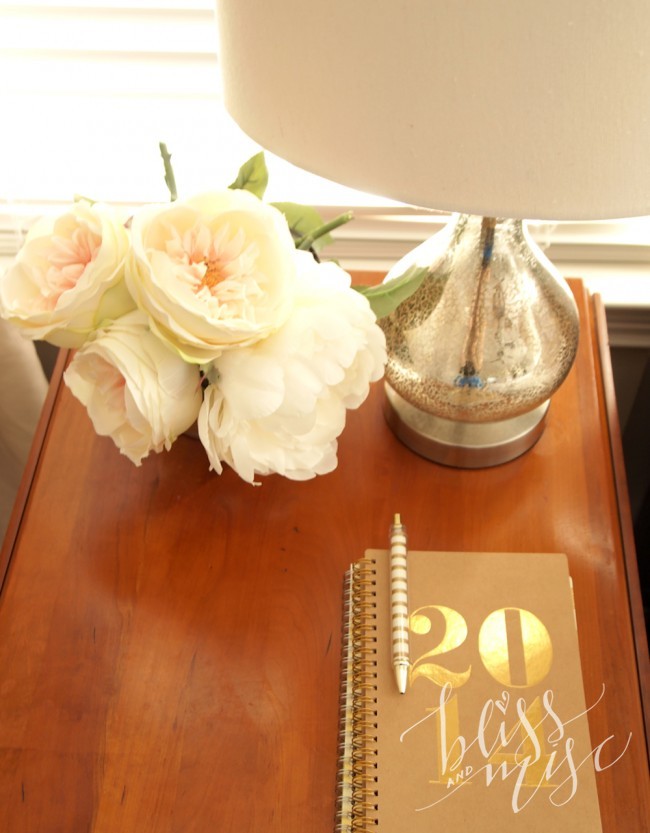 Our lamps came from Kohls. I knew for sure I wanted mercury glass and gourd shaped bases. Target had some nice ones that weren't the right shape or size.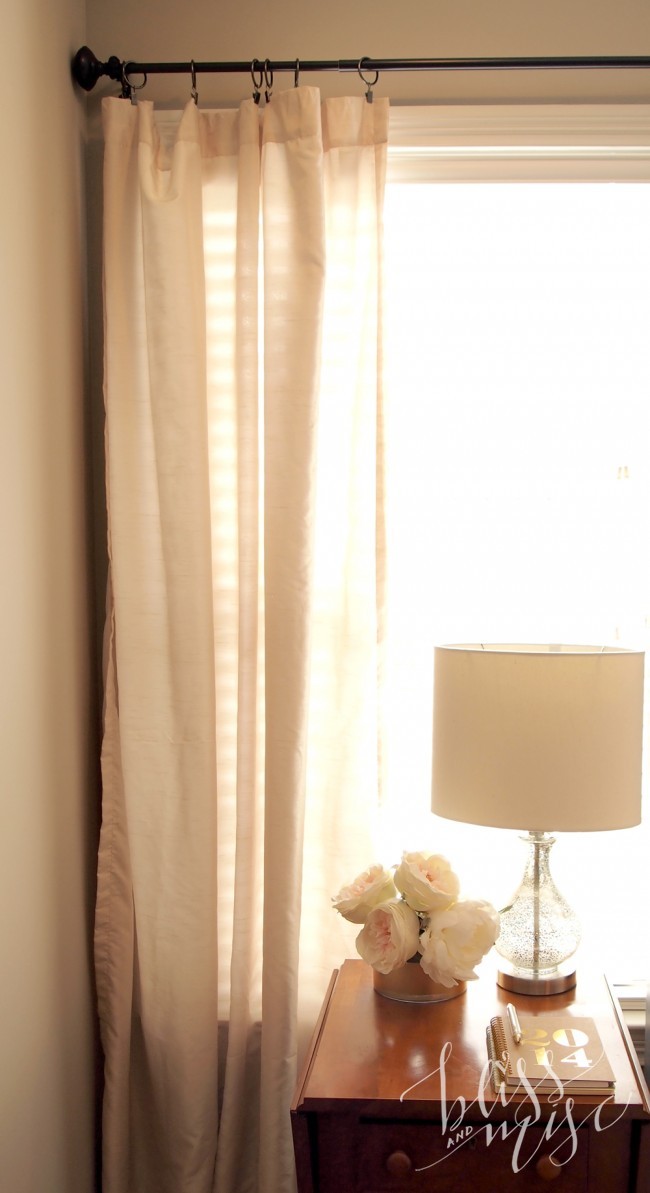 The curtains used to hang in our guest bedroom at our old house so I was happy to find a new place for them (and to not spend any money on them). I got the clips from Target to make them a bit longer.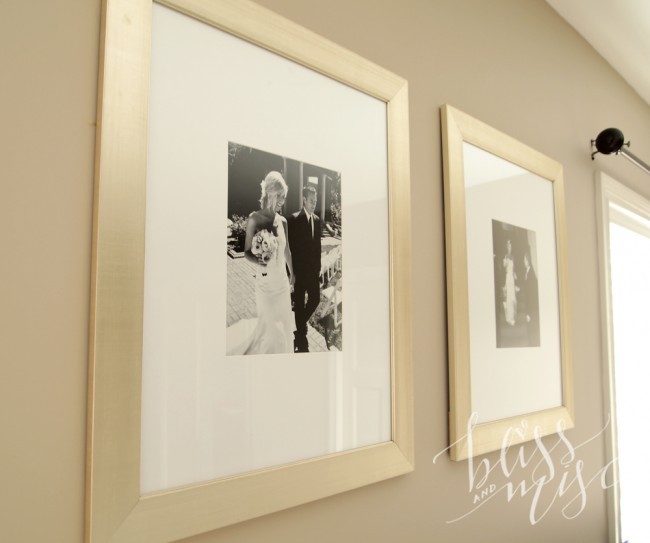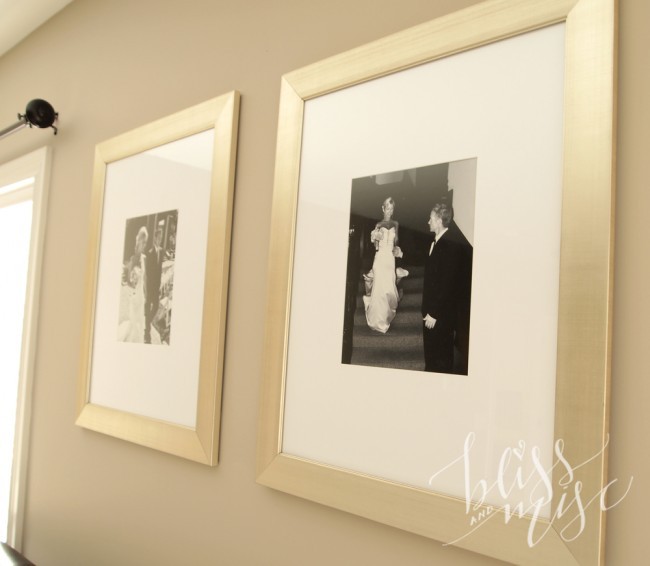 I had two of our wedding photos printed in black and white and framed them in these champagne frames from…TJMaxx (apparently its the only place I shop).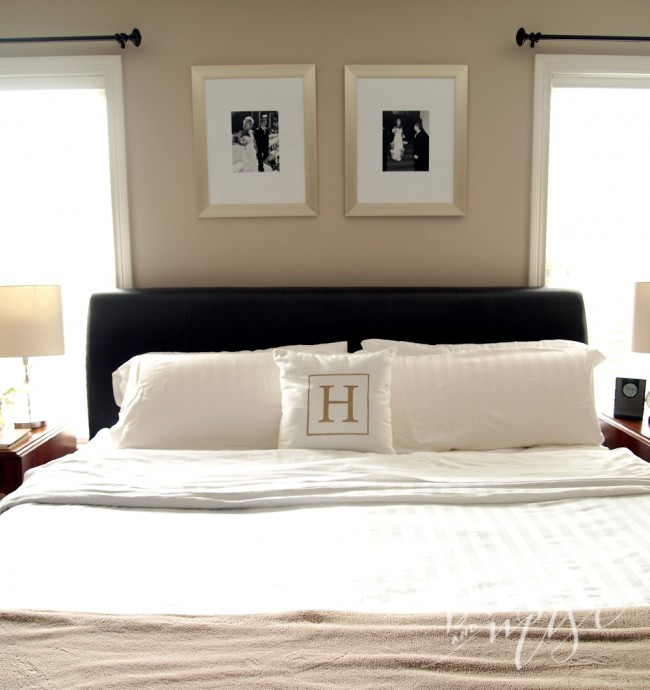 Bedding is from Kohls. Its super hard to find king-sized bedding without breaking the bank so when I saw these on super sale I grabbed them. Right now the duvet is over our old brown and blue comforter. Luckily it only shows thru a bit on the edges where the brown trim was, so it works till I find a great deal on a duvet.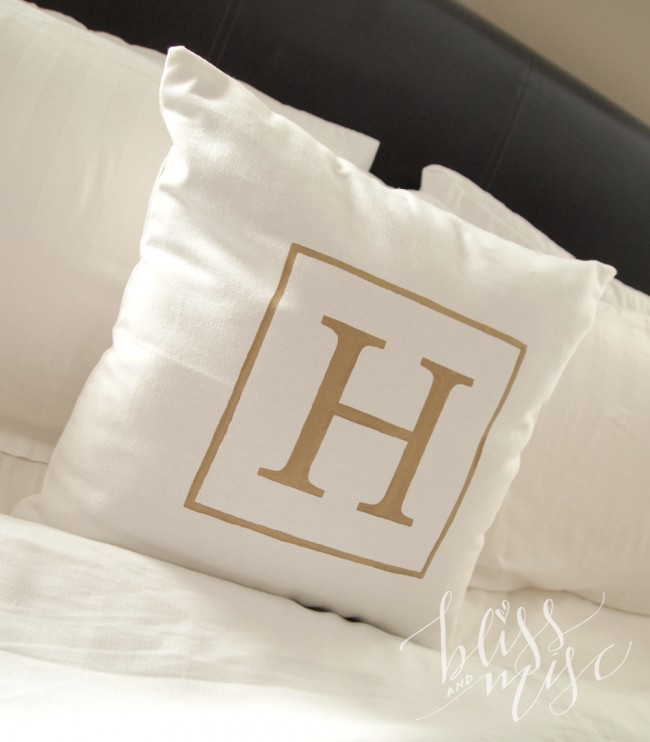 I made the pillow using the same technique I did here. I mixed some gold paint with a touch of grey and metallic white to make more of a champagne color. I think we still need some euro pillows but I'm keeping the decorative pillows to a minimum since they just get tossed on the floor.
I obviously haven't done anything with our night stands but the difference of color between them and the bed doesn't bother me like it did when the bedspread was brown. Also I figured out what to do with the cords for my ipad and phone.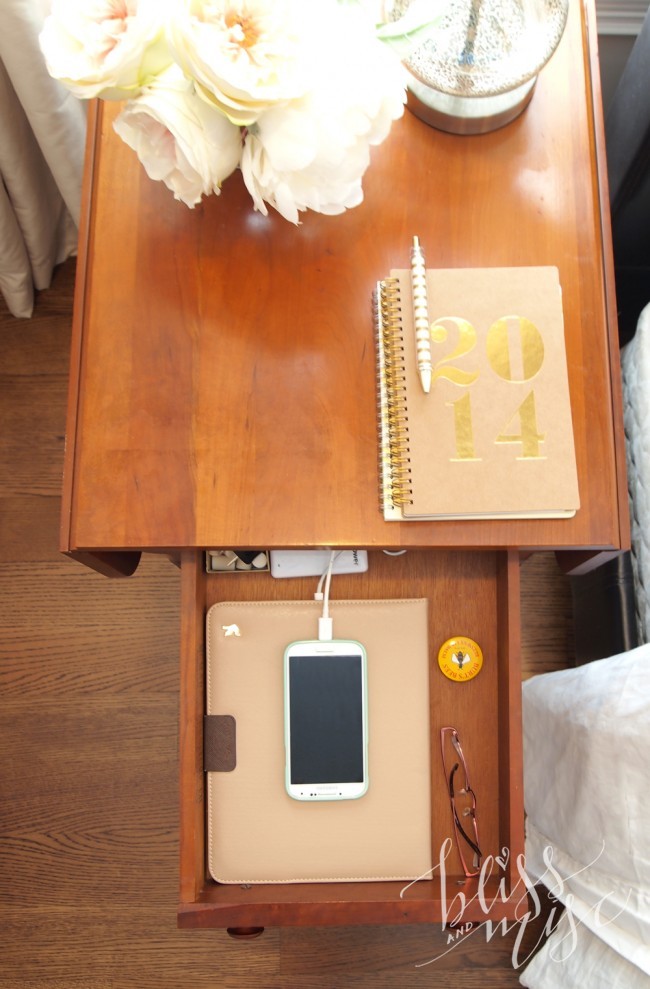 I just fed them thru the back and there was enough of a gap they dont get pinched when its closed. Now everything is neatly contained…along with my collection of earplugs. Doesn't everyone have a collection of earplugs? They do if their husband snores like an asthmatic grizzle bear (sorry honey).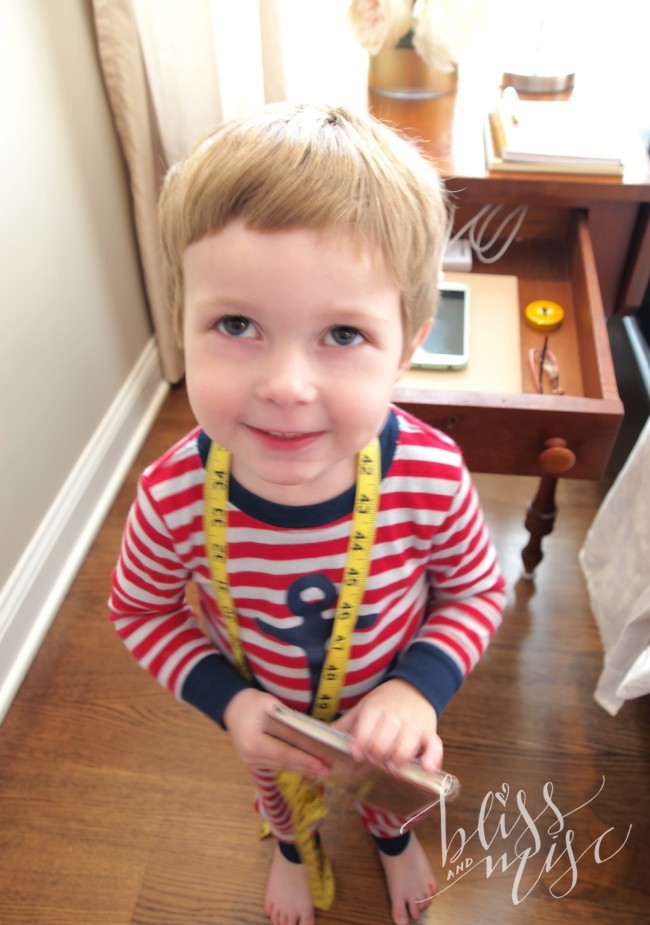 Evan saw the camera and insisted on "saying cheese"…yes, that's a tape measure around his neck.
The vase is from Walmart and I just spray painted the bottom gold. The flowers are from Michael's. I went back recently to pick up a few more of the garden roses that were in my previous photos but their selection was minimal…maybe because it's wedding season? Note to self: Always pick up extra when you see good faux flowers. So I found this bunch of peonies for $5…and I spray painted them….yes I did. They were a little too cream so I figured it was worth a try.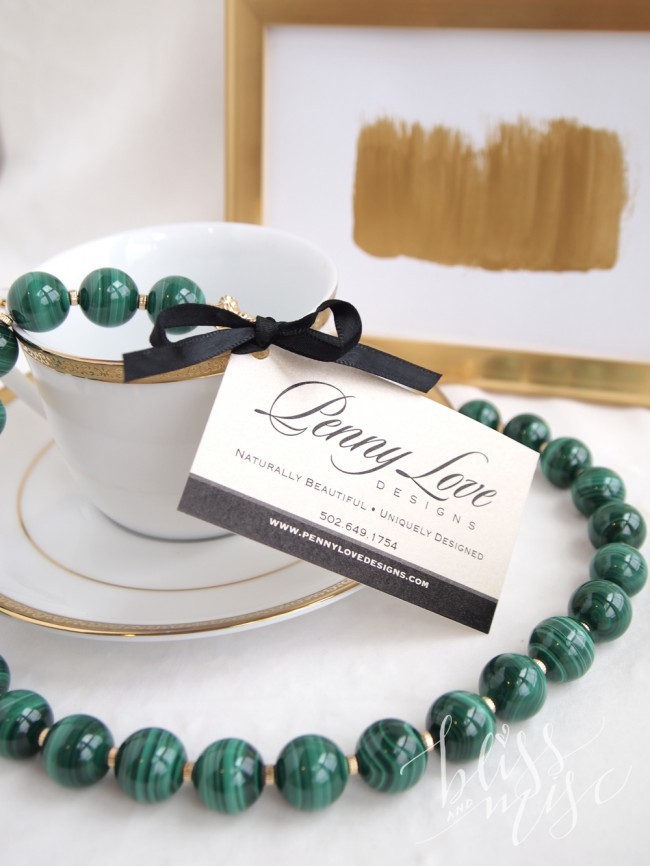 The painting on the right was just a quick one I did to throw in the background of some photos for a client's jewelry line. The frame is from the Dollar Tree (I seriously bought about 10 of these when I saw them).
So that's as far as I've gotten. I think we still may need something for the end of the bed and I haven't done anything with our demon TV. I also need to figure out what to do with this big empty wall…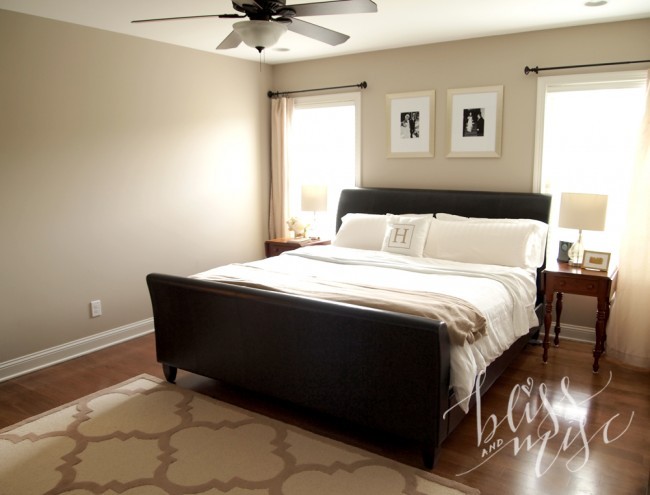 I haven't figured out what it's going to be but it's going to be big and something dimensional. So hopefully more on that soon!