So I totally started this project weeks and weeks ago but never got around till finishing it till this weekend. I like to think of myself as a "project butterfly". I float from one project to the next…and incidentally have trouble finishing things. Which is part of the reason my office is always a mess.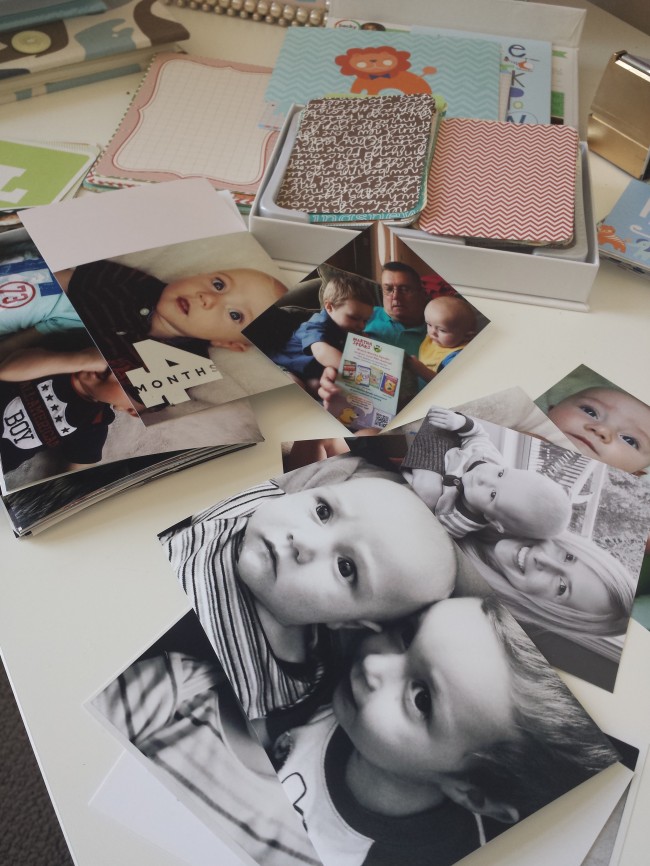 Seriously at this exact moment on my desk there is 1) a pile of photos for Baby N's One Year photobook (which MUST be completed sometime before he turns one), 2) E's Christmas tree paintings (which need to be replaced with new artwork), 3) a bag of birthday party supplies for E's 3rd birthday party (which still must be planned), and 4) piece of white velvet and a gift box from a photoshoot for a client's jewelry line. The floor is usually covered with a variety of toys for keeping the boys entertained when I have a little work to do. Welcome to my chaos.
Anyhow two of THESE FRAMES had been sitting around getting in my way since we moved.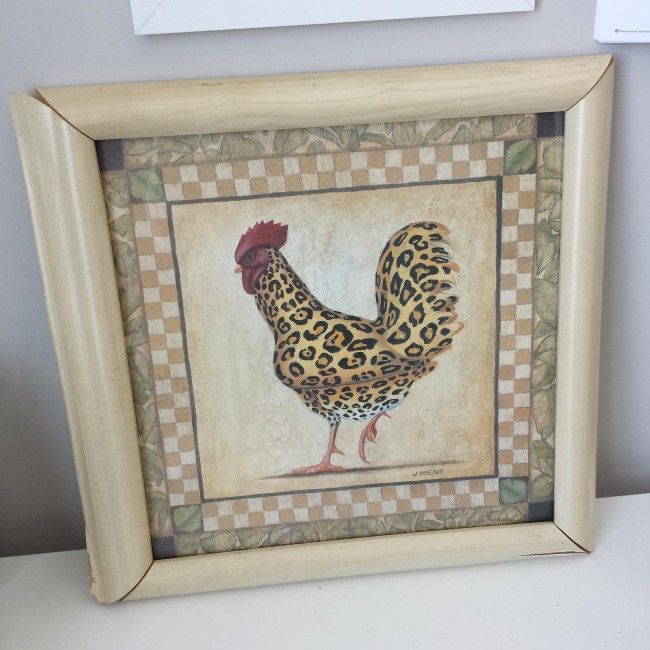 What's that? Why it's a leopard rooster of course!
Because if you're going to have a painting of a rooster to decorate your house it can't just be a regular yard-rooster…no it would have to be a fabulous leopard rooster.
Better yet…there's a matching tiger striped one.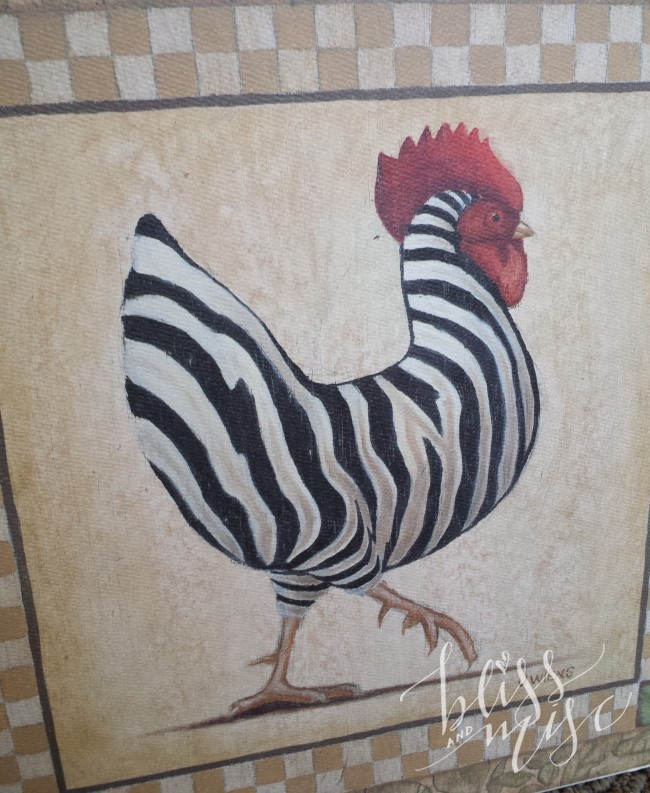 I know, that just took this whole thing UP A NOTCH! I'll let you compose yourself.
We found these in our attic when we were in the process of moving. I know, it's hard to believe we weren't making better use of these given their sheer amazingness. They were actually from my husband's uncle who, incidentally, has AMAZING taste and if anyone could make these work it would be him.
Since they had been in our attic they were kind of gross and the frames were wood with a faux wood laminate (???why???). The laminate was bubbling and starting to peel. I just pulled it off where it was loose and then used a hairdryer to heat up the glue on the rest and it peeled right up.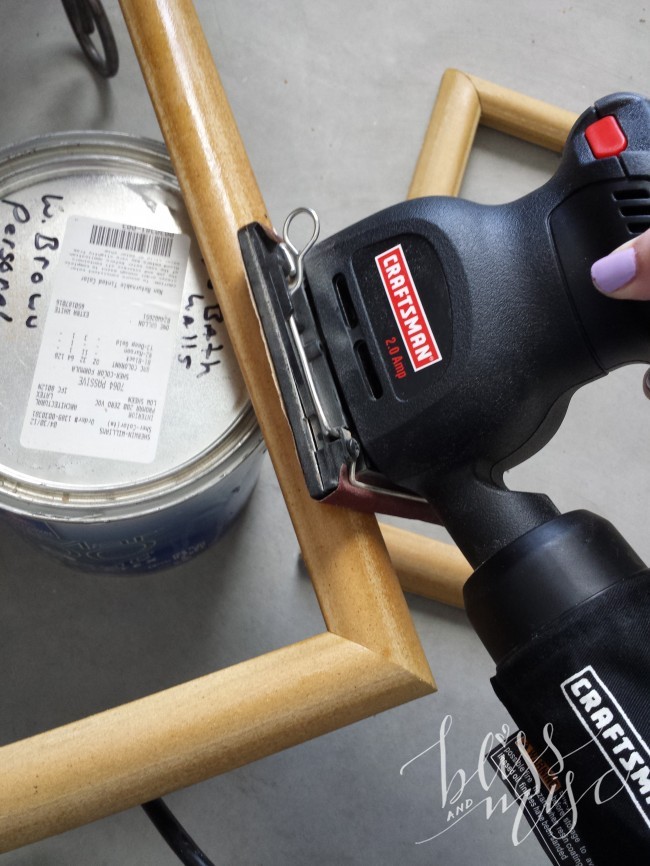 It left a film of glue and I smoothed it out a bit with my sander, then spray painted them gold. I got my sander FOR FREE when I purchased our new washer and dryer. I signed up the rewards point program with Sears when I ordered them and got enough that I was able to get this and a pair of shoes for E (these are my favorite – he's had like 4 pairs of them). I love free stuff…and it's a family habit to brag on a good deal (Hi Mom!).
I wanted to use the frames in our Master bedroom somehow, so when I saw pillows with these phrases I knew they'd be perfect.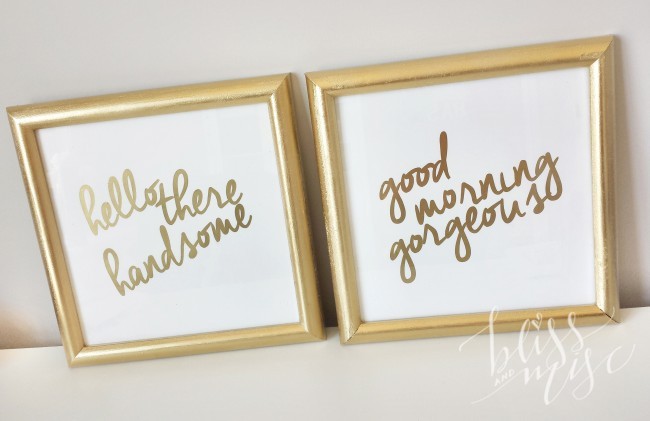 Those little greetings are fun and make you smile when you see them, so I thought they would be perfect for a private space like our Master bathroom. I just arranged the text (the font Cheddar Jack and is FREE for personal use). Then I cut the lettering out of vinyl with my Cameo then used my spraypaint technique to give them the Midas touch.
SHOP THE POST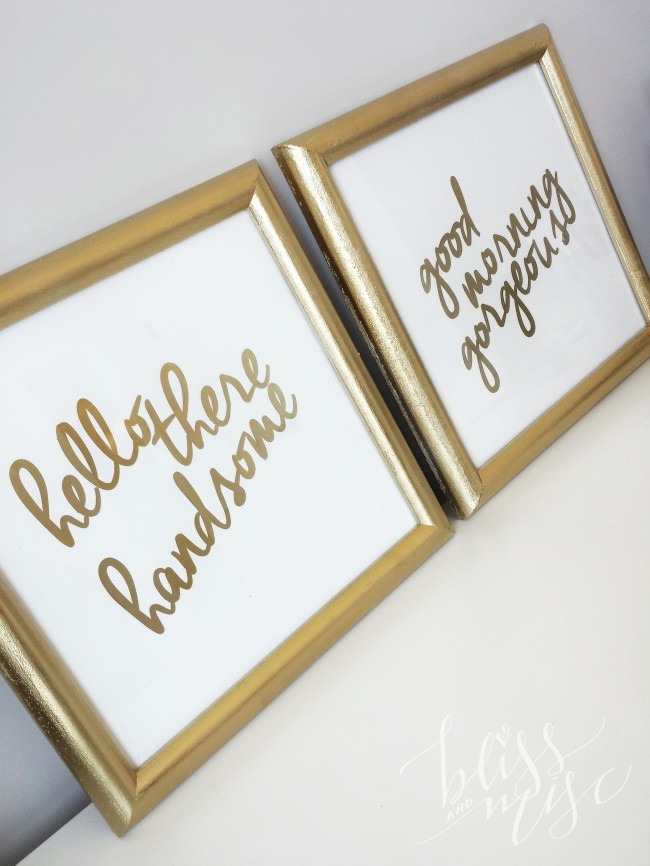 His: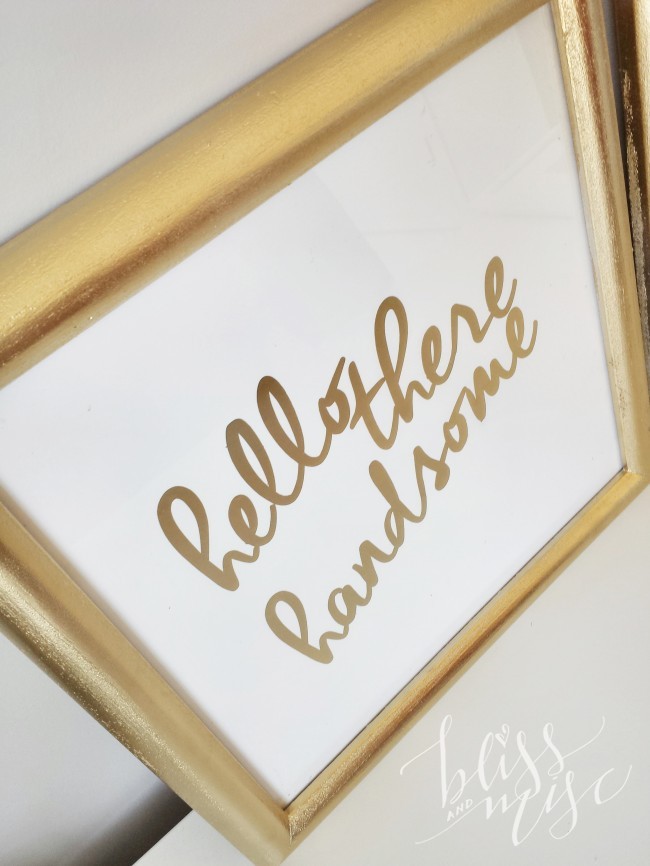 And Hers: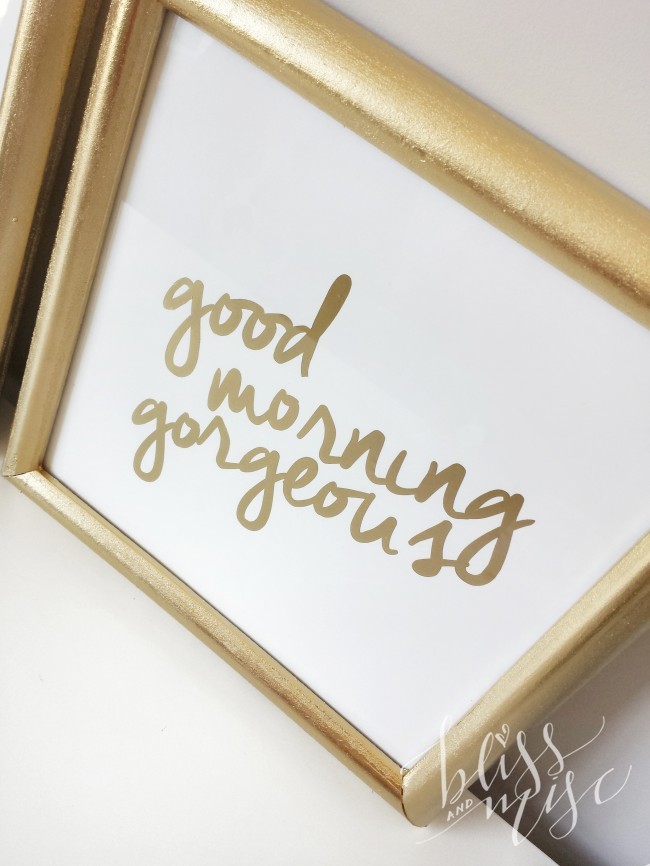 They're so cute (and a big improvement from what they were), I can't wait to get them hung. So does anyone need any rooster artwork? I know where you can get some!
Update: Download the PDF files now! FREE!
Hello Handsome  |  Good Morning Gorgeous