I am not a hoarder, in fact I LOVE going through things and getting rid of things I don't need. It makes me feel better to know that there isn't a bunch of useless "junk" hanging around taking up space. HOWEVER, I do have a certain attachment to containers and have a little trouble throwing them away.
Being a mother of two young boys we have a plethora of diaper boxes. Since they're sturdy and have handles I find myself tucking them away in closets "in case" I need them later. I put a bunch to good use packing up E's baby clothes which has come in handy for finding the right size hand-me-down for Baby N, but we still have more than a few around.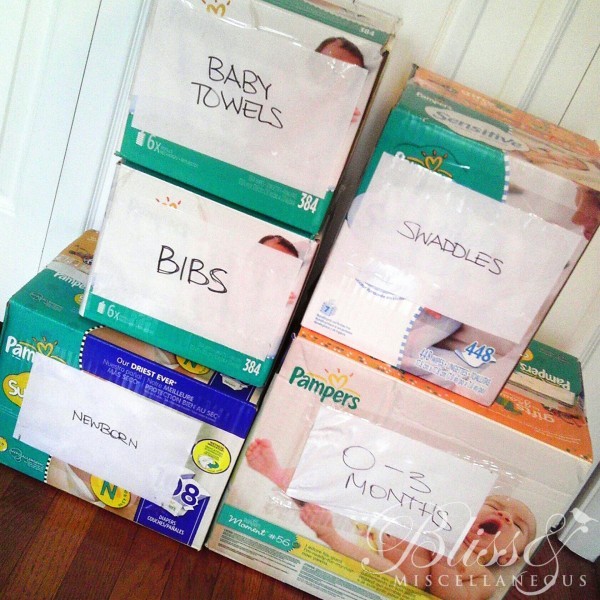 I saw some "trunk storage boxes" on Zulily and decided that they were exactly what I needed, especially since my car is full of "kid crap" (sippy cups, tiny dinosaurs, Dollar Store books…anything to keep a toddler hydrated and entertained). So an afternoon of cutting and hot-gluing later…ta-da!

This was especially thrifty because the fabric was left over from another project (another crafty Momma I know covered hers with patterned Duct-Tape…genius). Plus the box fits perfectly between the two carseats. Yea! No more toy cars rolling around the floorboards!
Since I was feeling particularly inspired I repurposed the graphics from E's 2nd Birthday and made a few labels for an old ricotta container (E "helped" me make baked Ziti) and voila…fun snack container, perfect for bigger snacks like popcorn (E's current favorite).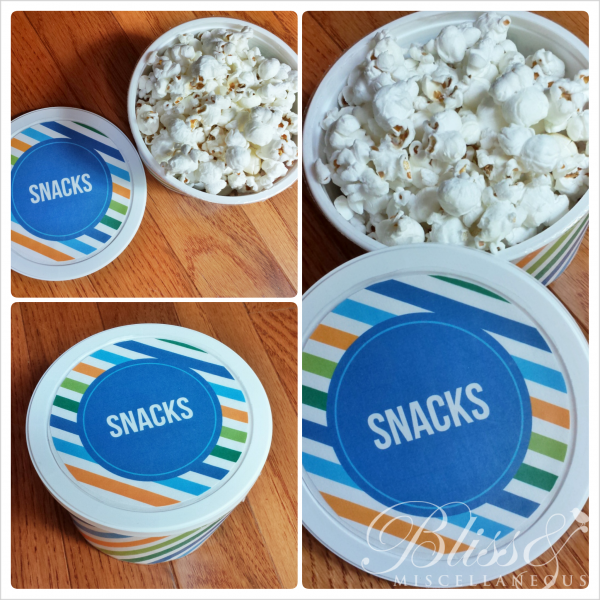 Got any favorite "recycling" projects? One of my all time faves is the lotion bottle charging station.