He's here! Baby 2B arrived last Sunday at 10:30am.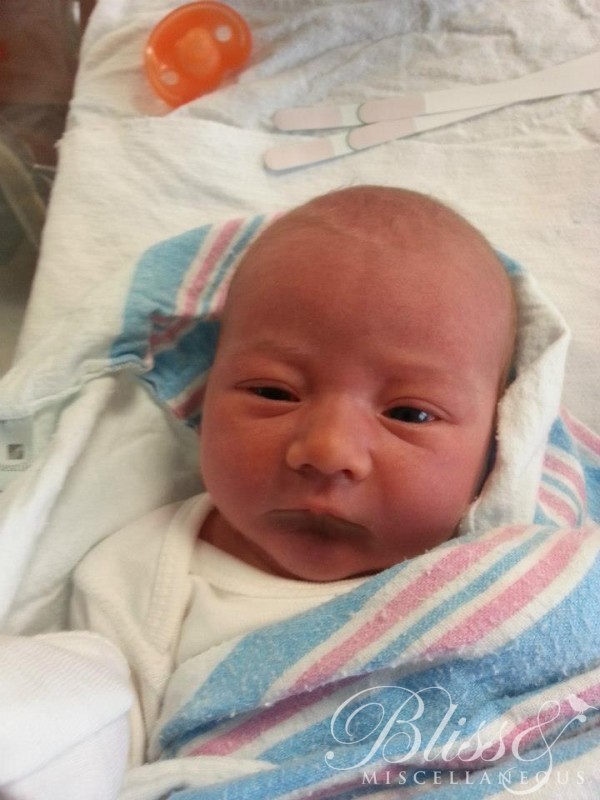 This is how he made his journey into the world.
The Pregnancy
This pregnancy compared to my last was pretty similar, with the exception of having more nausea and actually getting sick in the early days. I definitely started to show sooner with this one. I also was in maternity clothes earlier – which may have had more to do with the fact that I already owned them and I no longer had to dress professionally for work.
It definitely felt like I was carrying him lower than my first pregnancy, but it didn't really look like it. I guess because all those ligaments have been stretched once so they're more easily stretched the second time around. I didn't have any sciatic pain this time but towards the end my pelvic bones felt like they were going to break when I was walking.
Overall the second pregnancy was a lot less stressful and time seemed to pass faster while running around after a toddler. We weren't overwhelmed by having to buy all the "baby gear" especially since both of our boys were born around the same time of year so we didn't even need any clothing.
Labor & Delivery
Since Baby 2B was due in April it meant my husband would still be in school, so he arranged Plan A, Plan B, & Plans C, D, E & F should I go into labor without him around. Baby E was a week early so I thought Baby 2B would probably end up being late since I would expect him to show up ahead of time. At my 39 week appointment (on a Wednesday) my doctor and I discussed possibly being induced the following week. I was due on  the following Thursday so I didn't want to wait till then to talk about induction and then have to possibly wait another whole weekend. We scheduled my induction for the coming Tuesday so I would be able to be home by the weekend (my mom was currently undergoing radiation and couldn't travel during the week because of treatments. My doctor mentioned that he was on-call that weekend so it was comforting knowing I would definitely have my doctor deliver my baby regardless of when he came.
Saturday I started having contractions off and on but there was no consistancy to them, which was extremely frustrating. I assumed I would know when I was in labor having gone thru it before but while my contractions were getting stronger they didn't settle into a real pattern. Mostly I didn't want to have a "false alarm" and waste everyone's time only to be sent home. Around 7:00pm we called my in-laws to let them know we MIGHT be calling them later. They went ahead and headed over and around 10:00 I was pretty miserable so we headed to the hospital.
In triage they informed me I was only dialated to 3cm. Basically at that point they called my doctor and left it up to me. He said I could stay and see what happened and if nothing changed by 4:00 am then he'd just induce me then, or I could go home and come back when I thought I was further along. I decided to stay since we were already there and my in-laws were with Baby E. Mostly I didn't want to go thru the hassle of going thru registration and triage again.