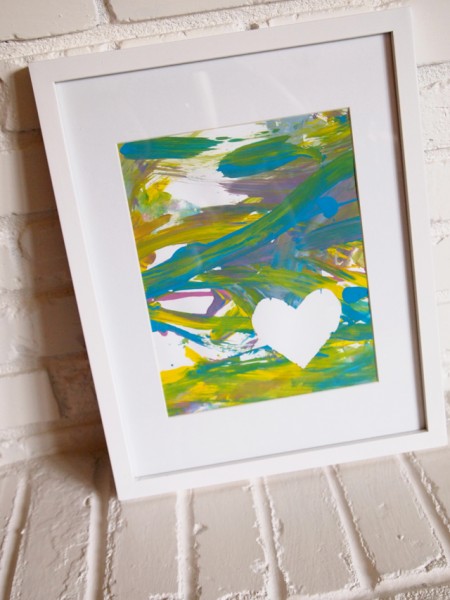 I've been wanting to do this for some time after seeing it on a former classmate's blog (she has a lot of artsy/creative ideas too – so go check it out), but haven't had the time (an entire morning) to dedicate to it. Obviously this is pretty straight forward but I did learn a few things since we've done this more than once so I thought I'd pass along some tips (at the very bottom of this post) – thus pictures of Baby E in two different sets of PJs.
It's a very messy and fun project (but please BE SAFE since paint should not be ingested and can be very slippery*).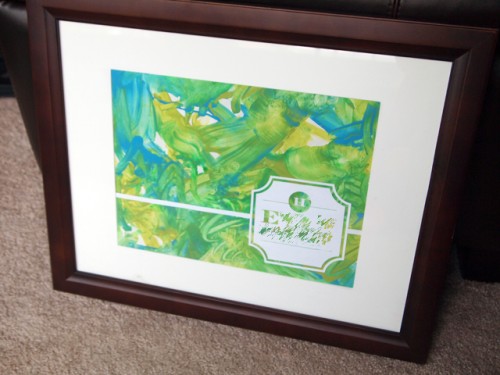 What You'll Need:
1 Baby in Need of a Bath: This is best to do when you have a morning free and a dirty baby.
Heavyweight paper OR Canvas paper (you can find at an art store): Regular printer paper isn't ideal since it will curl/buckle due to the moisture from the paint, also with a baby you'll want something not so easily destroyed.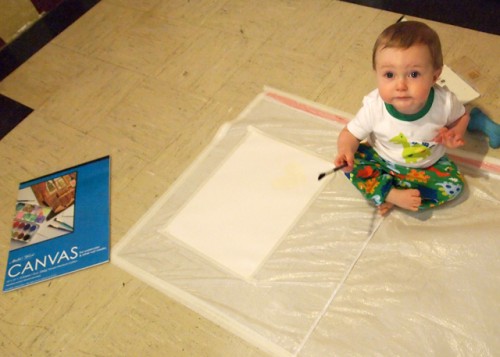 Non-toxic paints: Obviously you don't want to use anything that could be harmful to your little one. Soy paints are a good organic option (unless there is an allergy to soy).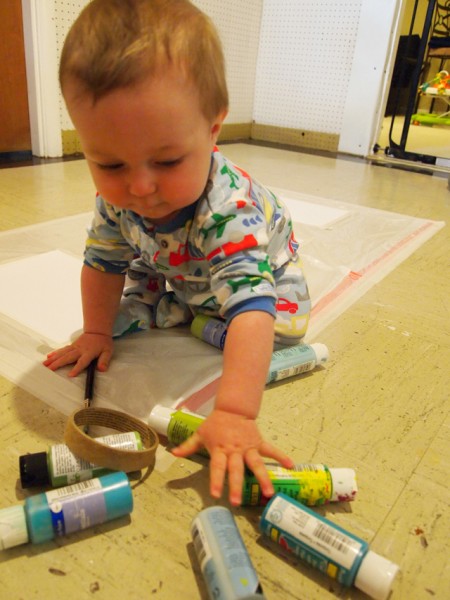 Masking tape, a trash bag, LOTS of damp paper towels (to wipe little hands before they go in mouths).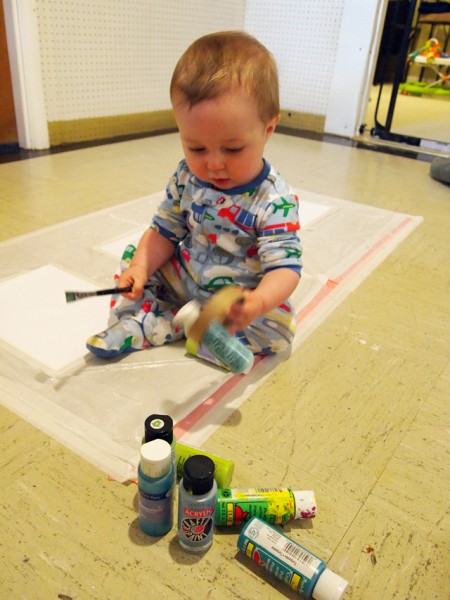 OPTIONAL: A paint brush or two (if your baby likes holding on to things, if not they can just use their hands and/or feet).
What To Do:
1. Make sure you have no where you need to be for at least 2 hours.
2. Tape a trashbag to the floor – you'll want to use a room that has easily cleaned floors since not all of it will stay on the trashbag. If you don't have a good area use a large piece of cardboard (much larger than your trashbag).
3. Tape your paper to the trashbag – the point is to make sure nothing moves ones baby get going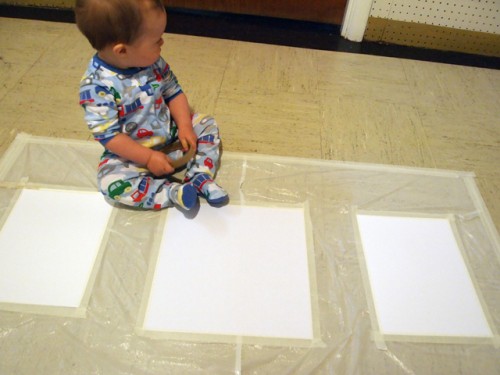 4. OPTIONAL: Tape a design on your paper with masking tape. Something simple like a heart, a letter or just random shapes work best. Make sure you rub the edges well so paint doesn't leak under.
5. Strip baby down to his diaper…you will also want to make sure you're wearing something you don't care about getting paint on because this is MESSY!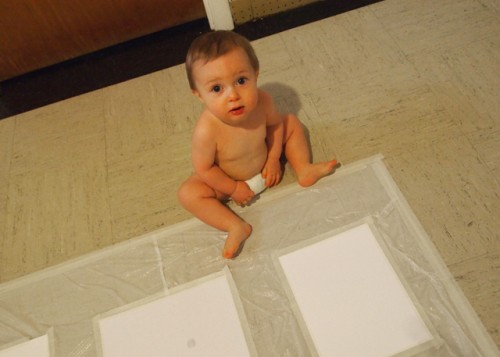 6. Squeeze a few ribbons of paint on the the paper and then let baby go to town.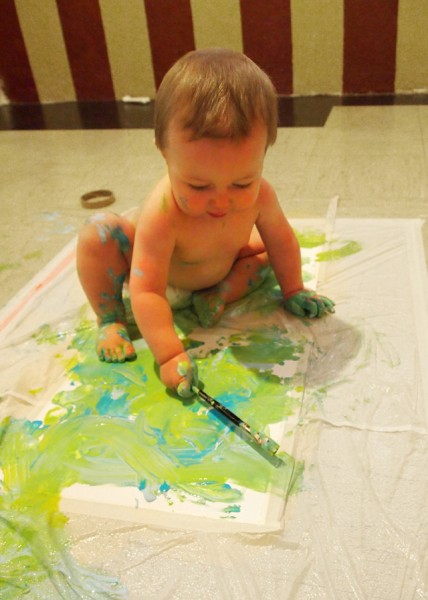 (Difficult to get a clear shot with a camera wrapped in a plastic bag)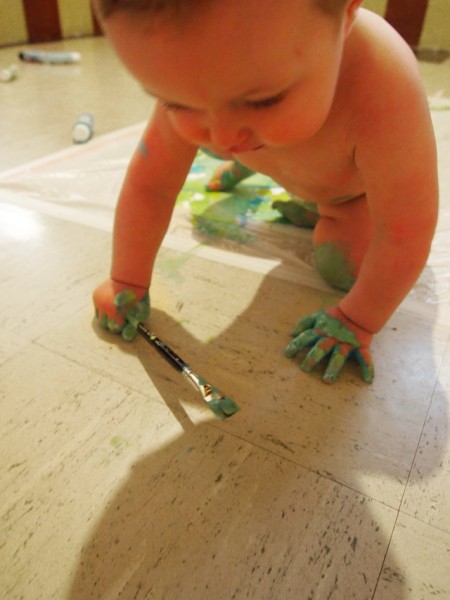 Baby E…not painting on paper.
The Aftermath: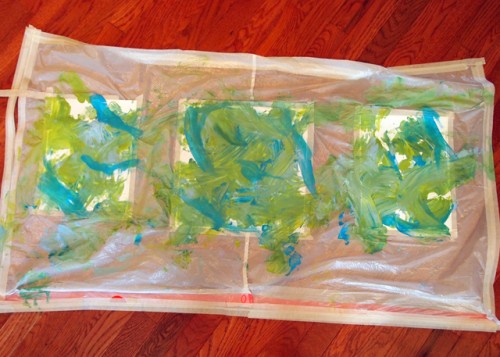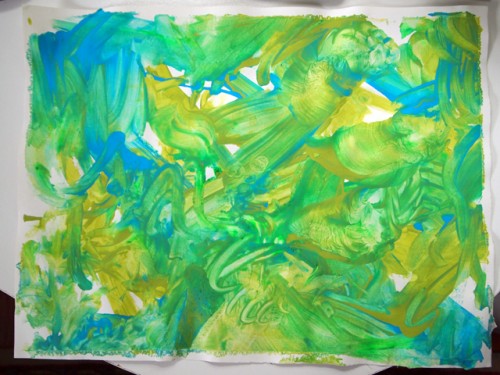 The Masterpieces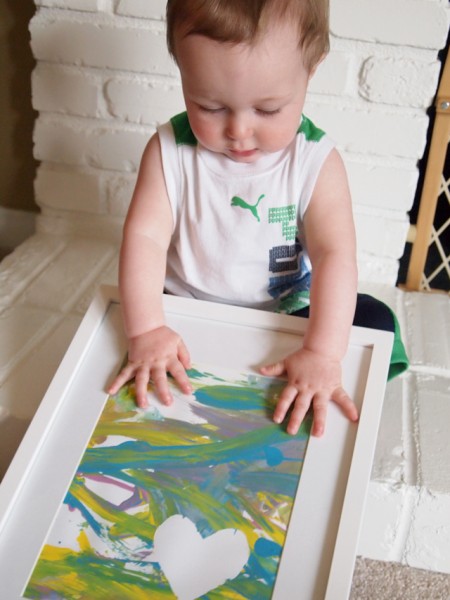 The Artist with his work (this one is for me)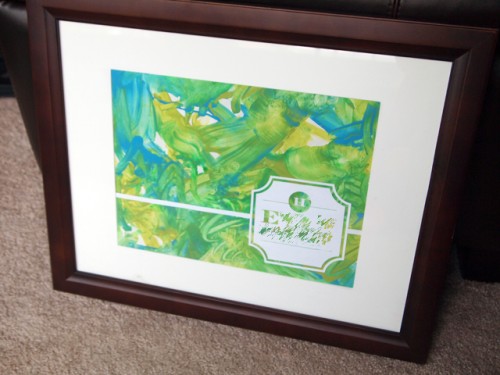 This one we did for his room since it matches. I created a custom monogram and used my Cameo to cut it out of white cardstock (sorry it's blurred cause it's Baby E's name).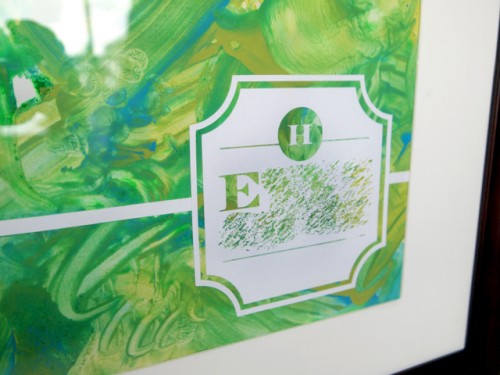 TIPS:
Use paint colors that are similar (red, orange & yellow/yellow green & blue/pink, purple & red) – because once the paints mix you'll probably end up with something that looks more like baby poop than baby painting.
*Be VERY CAREFUL if you have a baby that is crawling or walking…paint is SLIPPERY! (Avoid cracked craniums and trips to the ER).
Use several pieces of paper even if you only want to frame one "painting" because some will turn out better than others.

If you're taking photos…wrap your camera in a plastic bag lest it become a modern art piece.
Have Fun!